.
.
.

"Like musical chairs, etc."  – people seem fond of that apt Dan Schnur quote from the LA Times, referring to the practical effects of California's redistricting.   It's a transfixing thing, watching all the cards of our state's long-predictable politics thrown sky-high and speculating how they'll come down, and it'll keep us bloggers busy for some time.
The latest maps, the "first drafts," are likely to change over the coming months, due to litigation and other loud disgruntlements.  So all of our breathless tea-leaf reading, at this point, is conditional on what I would  term "a shitload of imponderables."  But has that ever stopped us before?
Great for Dems (it looks like)
First of all I want to say that THIS Democrat is glad he defied his Party (both parties) and supported 2008's Prop 11 which put this redistricting in motion.  Look!  It's good for us!  You timid damned sheep. The smart folks at the Washington Post predict our gaining three Congressional seats due to this reform – a most valuable contribution to the crucial business of taking back Congress for sanity next year!  And we also look set to gain enough Senate and Assembly seats to hit the 2/3 mark in Sacramento, and no longer be held hostage by Grover Norquist's puppet brigade!
And this just makes sense, in a state where the Republican Party has been dying for so long, that when the shameful "safe districts" are demolished, evidence of the GOP's morbidity wafts up in gaseous clouds.  And, sadly and conversely, in California's black hole or photo-negative known as the OC, the opposite holds true:  the couple of heretofore safe Democratic districts in our county now look like dicey toss-ups, real challenges.  Is that so bad?
Well, my Democratic and Latino friends sure think so, and they're going to fight it, as well they should – Republicans certainly would!
Hacking apart Democratic Latino communities of interest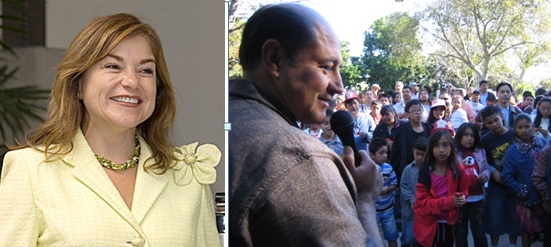 Our traditional central-OC Latino-majority Congressional and State Senate districts – that's the (currently) 47th CD now represented by Loretta Sanchez, and the (currently) 34th SD now represented by Lou Correa – are, as we speak, strapped in for major disruptive surgery – both on board to lose the Latino section of West Anaheim.  If LULAC (League of United Latin-American Citizens) has panties, right now they are in a BUNCH.
I shouldn't be jocular, this is serious.  Dividing up "communities of interest" like big Latino communities, which is what's happening here, is specifically verboten to this redistricting commission.   And could be the primrose path to litigation under the Voting Rights Act.  As Gus "OC Progressive" Ayer reminds us:
There are tests built into the Voting Rights Act designed to prevent breaking up natural ethnic communities to dilute their ability to have representatives. There's a long history from the Deep South where whites attempted to minimize the voting power of freed slaves, even generations after slavery ended.
Oooh!  A hoary tradition we do NOT want to be part of.  Again, I direct you to Seneca Doane's much better map which holds OC's Latino community of interest together by keeping Santa Ana attached to Orange and Anaheim west of the 55, rather than putting Santa Ana together with Little Saigon and Garden Grove in what I called a "cage match" and Gus calls "Thunderdome."
Gus stays at home and crunches numbers, that's what he likes to do.  And this is only of interest to partisans, but
Results from last year's gubernatorial race in Sanchez' district were 53% Brown, 37% eMeg.  In this revised version of the district, it would have been 45% Brown, 45% eMeg.  A much tougher district for Lo. [Loretta]
Is "Lo" up to the challenge?  Should she be?  I bow out of the question as I'm still hoping to play piano for her wedding, but I'm all for tough competition!
The new "Enter The Dragon" Assembly District
We sit silently around the campfire, us Phu Nguyen adherents, waiting for the proper moment to coax the great warrior out of his tent, after the trauma of being labeled, ridiculously, both a Communist and a carpetbagger.  With godforsaken Costa Mesa taken out of the mix, this assembly district should be Phu's for the taking.  (He did get 70% of the Viet vote.)
But lo – what strange and monstrous shape is this?   Ah, it is a dragon-formed Asian-American assembly district joining the Viets of Westminster, Fountain Valley and Garden Grove with the wealthy Indian-Americans of Cerritos and Artesia.  Because, you know, they're all from Asia and have so much in common.
I still think Phu could win that district, easy (which obviously isn't the commission's business.)  But it would make a lot better sense, and keep the Viet community together better, to keep the district inside Orange County boundaries by giving it Buena Park and Western Fullerton, which both include a lot of Koreans who have businesses in GG and Westminster.  (Also, the county boundaries represent a real boundary of media markets and identity.)
Switchblades Out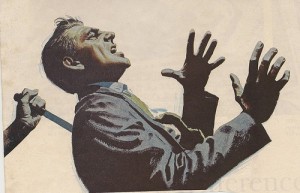 Out on the street, ear to the ground, betwixt all the clicks and shrieks, we seem to hear the following:
Now that our big OC coastal district has been redrawn to include the residences of both Dana Rohrabacher (Costa Mesa) and John Campbell (Irvine) everybody is speculating – will they run against each other?  Will Dana quit because he is old and addled?  Will John quit because he is lazy and feckless?  Or will John move further south (like Dana Point) to take over that district there?  How can they both continue the grand and noble quest to KILL MEDICARE?
And some are saying Ed Royce is thinking of moving from the North County to the South to take over that new district.  THIS scuttlebutt excites both the ambitious assemblyman Chris Norby and the ambitious supervisor Shawn Nelson, who would love to take over Royce's north-county seat, but who each wishes the other would stay out of the race.  First, what makes either of these jokers think they're qualified to be Congressmen?   If they do run, Bushala and I are going to prepare a DETAILED questionnaire for them, focusing on foreign affairs, civil liberties, the Patriot Act, the Drug War, free trade, gay rights, women's reproductive rights, immigration reform, and the Israel/Palestine conflict.  If the OC has to send one more Republican to Washington, I want it to be a Ron Paul Republican!
With a gladness approaching that of Yuletide, we note the coming demise of the OC's SECOND most corrupt Congressman, the loathsome and predatory Gary Miller.  The Post explains that Gary "is drawn into Rep. Judy Chu's (D) heavily Asian-American and Democratic district in the San Gabriel Valley.  He could move east to run in an open San Bernardino district, but even that seat leans significantly in Democrats' favor."
I've always been most embarrassed by our MOST corrupt Congressman, Ken Calvert – even just recently I saw him on TV hoisting his bulk past Paul Ryan, his jowls comparable to most folks' buttocks.  Now he's no longer an OC Congressman as his district has lost that dash of San Clemente and SJC that kept it reliably Republican.  I'd been dreaming of Bill Hedrick taking a third and final shot at him with that advantage gone, but I sadly see that Bill's Corona is also drawn out of the new district.  (Of course he could do it anyway if he wanted.)  But the Times does mention Calvert as being among the doomed, if only because Latino registration in the staunch E-Verifier's district has increased 64%.
And finally, to my friends in northern San Diego county:  I wish I could tell you Darrel Issa was toast.  Oh, how I wish I could say that about that louche and showboating creep.  Next best thing, though, it looks like you'll be losing the immigrant-bashing Brian Bilbray.  The Post:  "Bilbray is now in Issa's district north of San Diego. Bilbray's current district got pushed into San Diego and is a good bit more Democratic now. Look for Bilbray to run in that San Diego-area district but have a significantly tougher time winning."
All right now, guys  & gals, add in whatever you've heard or are thinking, in the comments section!