.
.
.
The Orange Juice Blog has come into possession (over one of our underground transoms) Saturday's pre-endorsement vote from state Senate District 32, a controversial 58% in favor of keeping embattled Senator Tony Mendoza, who is battling multiple credible charges of sexual harassment AND retribution from former female aides.
We'll add more background and analysis to this, but we thought we should share who voted to endorse Tony (we were most surprised to see the name of progressive Congresswoman Linda Sanchez, Loretta's sister) as well as who failed to cast a vote.
After all, as "Emerge California" wrote in a letter to delegates just before the vote, abstentions or staying home from the vote would be tantamount to voting to keep him:
…Given that Senator Mendoza is currently the subject of a sexual harassment investigation, we ask that you that you vote for "No Endorsement" at the Pre-Endorsement Conference or submit your ballot in advance of the pre-endorsement Caucus with a vote for "No Endorsement" in SD 32. It is premature to be endorsing in this race while the results of the sexual harassment investigation are unknown.
Pero no – look at all the LA county and Buena Park Democrats who voted for Tony or cast no ballot helping Tony get his majority: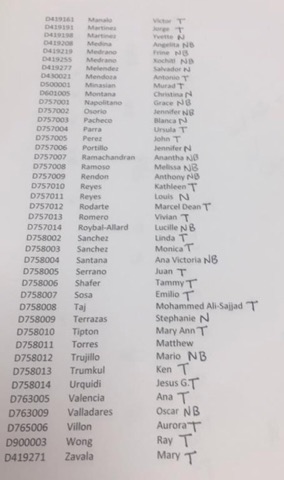 That's voting to endorse Tony:  Sean Ashton, Gustavo Camacho, Miguel Canales, Josefina Canchola, Ivonne Centeno, Katherin Chu, Barbara Contreras Rapisarda, Lorraine De La O, Delta Duvali, Margaret Granado, Victor Manako, Jorge Martinez, Antonio Mendoza, Murad Minasian, Ursula Parra, John Perez (NOT the famous one), Kathleen Reyes, Marcel Rodarte, Vivian Romero, Congresswoman Linda Sanchez, Monica Sanchez, Juan Serrano, Tammy Shafer, Emilio Sosa, Mohammed Taj, Mary Ann Tipton, Ken Trumkul, Jesus Urquidi, Ana Valencia, Aurora Villon, Ray Wong, and Mary Zavala.
And somehow managing to not cast a ballot, thus enabling all the yes votes to constitute a majority:  Alexandra Ananian, Anthony Avila, Assembly Majority Floor Leader Ian Calderon (Jordan Brandman's old boss!), Vanessa Delgado, Benjamin Escobedo, Lizette Escobedo, Vikki Galarza-Martinez, Miguel Garcia, Pedora Keo, Gino Kwok, Jaime Lopez, Carlos Magdaleno Sr, Angelita Medina, Frine Medrano, Xochitl Medrano, Congresswoman Grace Napolitano, Jennifer Osorio, Anantha Ramachandran, Melissa Ramoso, Assembly Speaker Anthony Rendon, Congresswoman Lucille Roybal-Allard, Ana Victoria Santana, Mario Trujillo, and Oscar Valladares.
(And how is there nothing but a blank space next to the name of Congressional candidate Jay Chen?)
So this vote, too large to be no endorsement, and too small to be a definitive endorsement, goes forward to the larger Party at the February 23-25 convention in San Diego (by which time an investigation will be concluded.)  And such is the power, apparently, of incumbency, and the fear, apparently, of a politico already known for retribution, that it dwarfs the power of the #metoo moment.  Juice Brother Greg, can you weigh in with more details and analysis?