.
.
.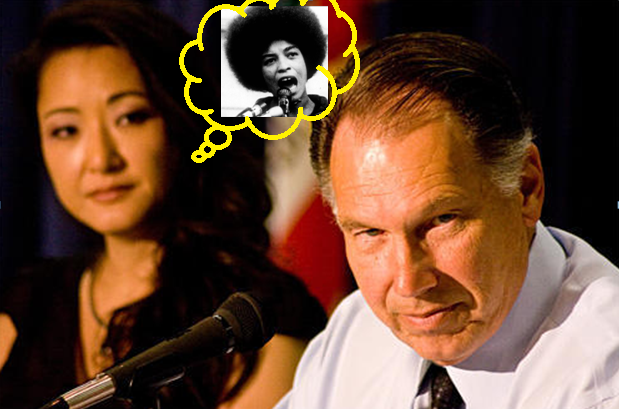 When slapdash knife-thrower Susan Kang Schroeder, the fiercely loyal and vengeful spokeshole of OC District Attorney Tony Rackauckas, perused the lengthy and distinguished list of co-signers to UCI Law School Dean Erwin Chemerinsky's 15-page letter to the US Attorney General ripping her boss a new one over his jailhouse-informant malfeasance, one name jumped out at her:  Angela Davis!
Ah, perfect, thought Susan.  This'll make our case to the scared white voters of OC, better than any argument I can make in Tony's defense:   That terrifying activist of the 60's who still strikes fear into the heart of trembling Caucasians, the former Communist Party member and Black Panther associate who was arrested, charged, tried, and [*cough* acquitted] of conspiracy in the 1970 armed take-over of a Marin County courtroom, in which four persons died.  THAT's the kind of person who objects to T-Rack's methods!
So, S-Kang went ahead and began her whiny press release defending Tony with the list of signers as "…Chemerinsky, activist Angela Davis, the ACLU, [and others…]"  Nice list of bogeymen to the right, there.
Except, D'OH!  Wrong Angela Davis, Susan!
It's always anyone's guess if a perpetual spin-meister like SKS makes mistakes like this because she's dumb and sloppy, or if she just assumes she'll get away with it because nobody's paying close attention.  But the co-signer (among dozens of others including Gil Garcetti) of Chemerinsky's letter is quite obviously a DIFFERENT Angela Davis (middle initial J, not Y) whose un-radical bio is listed right there on the letter:
Angela J. Davis is a Professor of Law at the American University Washington College of Law, where she teaches criminal law, procedure, and defense. She has served on the adjunct faculty at George Washington, Georgetown, and Harvard Law Schools. Professor Davis researches and writes on prosecutorial discretion and racism in the criminal justice system. Her book won the Association of American Publishers 2007 Professional and Scholarly Publishing Division Award for Excellence in the Law and Legal Studies Division. Professor Davis has also served as the Executive Director of the National Rainbow Coalition and the Director of the Public Defender Service for the District of Columbia, where she previously worked as a staff attorney.
Or maybe they just "all look the same" to Susan?
The bulk of Susan's defense against Dean Chemerinsky's damning missive is that Erwin never came to the People vs. Wozniak trial, and couldn't possibly have read through the transcripts,  because he never personally ordered them.  And so he must necessarily be relying on "factually incorrect media accounts" by journalists like the Weekly's R. Scott Moxley.  Yeah, right.
Meanwhile, lovers of justice in Orange County wait – like the watchman waits for the dawn, like Jews wait for the Messiah – for SOME help to come from the Feds or the State, as the OC's Exalted Administrator of Injustice continues his rampage unchecked.  At this rate, the entire County will soon be covered with unconstitutional Gang Injunctions, every minority youth will have a bogus criminal record, and every corrupt politician and killer cop will continue to enjoy carte blanche, in the Third World backwater of inequality we call home.