.
.
.
.
.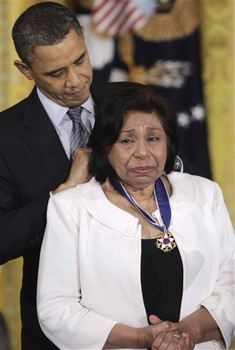 Seventy-four year old Fullerton resident Sylvia Mendez received the highest civilian honor in the nation yesterday when Barack Obama bestowed upon her the President Medal of Freedom placing it over her shoulders. She was in the company of other recipients including Maya Angelou and Bill Russell. (Somehow George H.W. Bush got a medal too) A historical figure in Orange County's history of desegregation, Mendez has spoken over the years about the legal case her parents were the lead plaintiffs in all over the country. Watch video of the presentation below:
Some further background history: On April 14th 1947, the U.S. Circuit Court of Appeals in San Francisco unanimously upheld a Ninth District Court decision in the case of Mendez, et al versus the Westminster School District of Orange County. The landmark ruling held that segregated schools in the four districts violated the 14th amendment of the constitution as California became the first state in the nation to end school segregation. The lawsuit was filed by the Mendez, Palomino, Ramirez, Guzman and Estrada families collectively and was supported by a diversity of organizations and people. Following the ninth district ruling, a young Sylvia Mendez, daughter of Gonzalo and Felicitas Mendez, integrated a former "White School" after being denied enrollment as an eight year old in 1944.
The reverberations of the court ruling were felt throughout the nation as it served as an early legal precedent for Brown v. Board of Education.