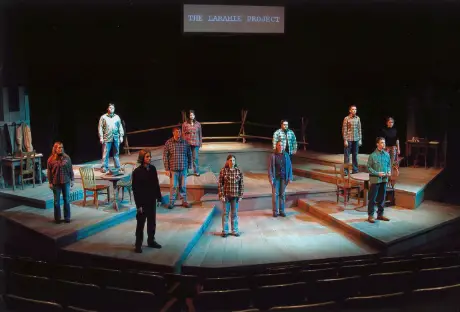 For Immediate Release – November 11, 2010
CSU Fullerton Students to Hate Group: "The Show Must Go On!"
Santa Ana, CA –  When Nick Rocz heard that an anti-gay group was planning to protest an upcoming performance of The Laramie Project, he had one thought: the show MUST go on.  "The Laramie Project tells the story of a young man killed because he was gay.  The idea that we would let a small group of anti-gay protestors stop us from telling that story is just unthinkable," said Rocz, a senior at CSU Fullerton and performer in CSU Fullerton's production of The Laramie Project.  The Westboro Baptist Church (WBC) has announced plans to protest this Saturday's performance through their website.
The Laramie Project is a performance piece based on interviews conducted in Laramie, Wyoming in the wake of the murder of Matthew Shepard.  Shepard's murder in 1998 became one of the most well-known cases of anti-gay violence in the US.  "The Laramie Project is a story of prejudice and fear that results in inconceivable violence. It is also a story of love and hope," explains Assistant Professor Karyl Ketchum, a faculty member in the Women and Gender Studies Department at CSU Fullerton.  "In a time when hatred seems increasingly tolerated on the political stage and in our schools, it becomes critical that we listen to the lessons that stories such as The Laramie Project have to teach us."  CSU Fullerton's production concludes its run with performances every night at 8 PM from Thursday, November 11 through Saturday, November 13 at the Grand Central Art Theater in downtown Santa Ana.
Click here to read the rest of this post.