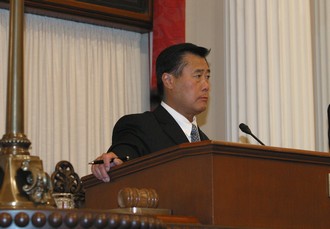 Remember the mini-scandal that surfaced when Sue Vaughn, the Principal at the Orange County High School of the Arts (OCHSA), interfered with the publishing of the school paper because she didn't like something that a student reporter wrote about a school vendor?  That happened in September of last year.  You can read all about it by clicking here.
Vaughn picked on the wrong student.  The reporter's mom turned out to be a media bigwig.  Now it appears that her mom had major political pull too.
On Tuesday, State Senator Leland Yee (D-San Francisco) introduced "SB 438 in response to Orange County High School of the Arts' insistence that administrators broke no laws when they halted printing of the student newspaper in September over objections to its content, according to an Orange County Register report, because the laws apply to public schools, not charter schools," according to the OC Weekly.
Click here to read the rest of this post.