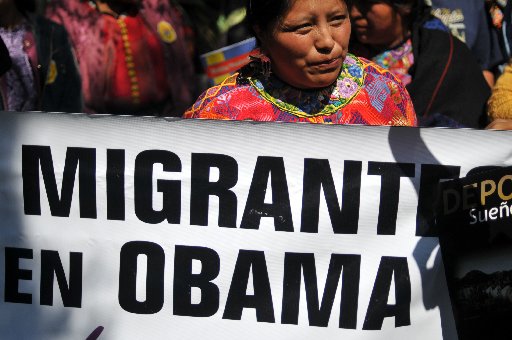 [poll id="255″]
PROTEST JANUARY 20TH – OBAMA FIRST YEAR IN OFFICE
OBAMA FIRST YEAR IN OFFICE SEES NO IMMIGRATION REFORM
HERMANDAD MEXICANA AND MAPA DEMAND OBAMA FULFILL PROMISE
Los Angeles – Hermanded Mexicana Nacional and the Mexican American Political Association along with other organizations will protest President Barack Obama's first year in office as a promise unfulfilled to the immigrant communities.
"January 20th concludes the first year in office for President Obama with great lament due to the extraordinarily aggressive enforcement tactics directed against working class immigrant families completely opposite to what candidate Obama promised during the presidential campaign," declared Nativo V. Lopez, President National of Hermandad Mexicana and MAPA.
Hermandad Mexicana and MAPA call on the immigrant community, their families, and allies to participate in two actions directed at President Obama to demand immediate White House action to pursue fair and humane immigration reform, particularly the legalization of all undocumented persons, this year.
The actions occur in coordination with immigrants' rights coalitions and networks nationally that are organizing similar protests during the month of January. These are the first public protest actions in favor of favorable and humane immigration reform in 2010.
The two protests will occur at the following locations:
Wednesday, January 20, 2010 – (5:00 p.m.)
Federal Building, 300 N. Los Angeles St., Los Angeles
Wednesday, January 20, 2010 – (5:00 p.m.)
Office of Immigration and Customs Enforcement – 34 Civic Center Plaza, Santa Ana
Nativo V. Lopez
National President
________________________________________
Join us in this prolonged campaign for driver's licenses and visas for our families. The first step in making change is to join an organization that pursues the change we desire. We welcome you to our ranks.
Other organizations leading this movement include: Hermandad Mexicana Latinoamericana, Mexican American Political Association (MAPA), MAPA Youth Leadership, Southern California Immigration Coalition, Liberty and Justice for Immigrants Movement, National Alliance for Immigrant's Rights, and immigrant's rights coalitions throughout the U.S..
CONTACT: Nativo V. Lopez, National President of MAPA (323) 269-1575