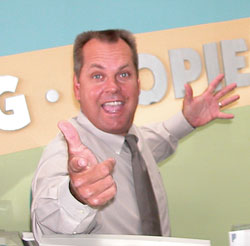 Mission Viejo recall council candidate Dave Leckness
Good afternoon folks. The election to recall  Mission Viejo Councilman Lance MacLean is starting off like a "3 stooges" comedy routine.
On Thursday Nov 19th Dave Leckness submitted his documents to become the second candidate to replace Lance MacLean if voters kick him out of office. While two other Mission Viejo residents did "pull" papers they failed to turn them in which automatically ends their entry into the February 2nd 2010 recall election.
The very next morning I received an email whose title reads:
  "What the recall in Mission Viejo is all about."
The one page hit piece has a photo of candidate  Dale Tyler in the City Clerk's office signing an election document alongside another photo of council member Cathy Schlicht at a council meeting while presenting her concern about EMF exposure to our children in local parks prior to her being elected.
The very first line below these photos reads  "With Tyler in the third seat, John Paul Ledesma (who is termed out in 2010) and Cathy Schlicht (who was elected in 2008) will have three  votes and will control the city council."
Think about that remarkable statement for a moment. The recall election is being held on Feb 2nd. My guess is that the results will be official 30 days later at which time the winner, assuming Lance is defeated, will not take his seat until March. As such John Paul Ledesma will only remain in office for around 8 months as we go dark during part of the summer.
In the "Answer of Lance MacLean to Statement of Reasons for the Proposed Recall " Lance responds saying that "this self-serving group wants to open a seat on the City Council and insert their hand-picked candidate so they will have a majority rule."
What majority rule? Some thought we had a council majority after the Nov 2002 General Election when John Paul Ledesma was re-elected and we carried challengers Trish Kelley and Lance MacLean over the finish line placing 1st, 2nd, and 3rd in that city council election.
Fast forward to 2009 where there have been times when councilmember Schlicht made Motions which died for lack of a second. Note: John Paul was in attendance at those meetings.
"Control the city." What were they smoking in the back room where these geniuses concocted this flyer?
Let me also point out that in checking John Paul and Cathy's official voting record, excluding their approval of the Minutes, check registers or Routine Consent Calendar items that almost every member approves, they have rarely voted in agreement on OLD or NEW Business Agenda items during the 10 months that Cathy has  been on the council.

One glowing example is the topic of introducing "round-abouts" in our city where John Paul was very animated in his opposition while Cathy was tasked by Mayor Ury to conduct ad hoc committee meetings to evaluate the pro's and con's of that concept.
At no point in his reply does Lance admit or deny the charges against him which is the reason for the recall starting with his being handcuffed "by Police for assault and battery on a co-worker."
On November 9th I interviewed candidate Dave Leckness in a restaurant adjacent to his print shop for a solid hour. During that cordial discussion, prior to his November 19th filing with the city clerk, I asked for his input on a wide variety of city issues for which he stated not having an opinion.
Questions such as his knowledge or opinion on the multiple allegations in the recall which enables him to be a candidate now rather than waiting for the traditional election cycle. Dave said he was "not familiar with any of the charges against Councilman MacLean." Whether he agrees with any, all, or none of them, voters would expect him having an opinion of same.
Dave said he was not for the recall yet in the same sentence told me "its time for a change."
Is that response controversial?
You don't support the recall of Lance yet feel he needs to be replaced?
Dave. Why is it "time for a change" in Feb 2010 rather than Nov 2010?
Does that remark confirm that even Dave Leckness believes that Lance needs to be removed now rather than at a future date?
Another issue is the Mission Viejo "Right to Vote" Initiative in our city that, after 11,000 petition signatures were turned into our city clerk on Jan 26th, qualified to be on a future ballot. This Initiative is not a minor issue. It's not every year that we have city specific ballot measures in Mission Viejo yet Dave was not familiar with that ongoing "grass roots" effort. This Initiative, modeled after one in Yorba Linda, relates to voter approval of major zoning change proposals.
While we should not expect candidates to be up to speed on every possible scenario in the city there are some that are vital to retaining our quality of life.
Let me also point out that both candidates, Dale Tyler and Dave Leckness, each asked me to sign their Nomination papers. Although I know them both for many years, I felt that would restrict my ability to fairly cover their campaigns.
A final thought in this first of two reports on the three stooges.
Go back to my Nov 9th interview of Dave Leckness, look at his Candidate Statement of Qualifications, turned in 10 days later, and the hit piece which I reference above.
Part of Dave's Candidate Statement is a Readers Digest, reduced copy of the "hit piece." Other than his personal opening and closing remarks he has included some of the same text such as the allegation of  "getting rid of Kid's factory" which is directly from the flyer referenced above. Another problem with the hit piece and his statement is that they have thrown out a wide net of charges against many activists in our city while only Dale Tyler is the candidate. I do not believe that he has expressed any opinion on the Kids Factory as charged above.
Part 2 of 2 of his recall election should be in your incoming mail sometime tomorrow.