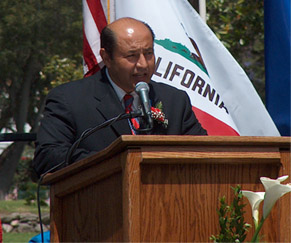 State Senator Lou Correa (D-Anaheim) was first elected back in 1998 – so he has been through more than one state budget crisis.  When he was asked about our current state budget crisis he told the O.C. Register, "I've never seen it this bad.  Is this the worst? Yeah, this is the worst."
Correa is a rare Democrat in that he does not like to raise taxes, and the current budget stalemate is due to the fact that neither side wants to budge on taxes.  The Republicans don't want to raise taxes – and the Democrats don't want to make many more budget cuts.
Add to the mix the fact that Governor Arnold Schwarzenegger has his own basket of goodies that he wants to add to the budget, and you have a volatile mess on your hands.
"As a stop gap, the governor has ordered the state Department of Personnel to adopt a plan to furlough state employees for two days a month without pay and to begin layoffs of state workers. State employees, however, are trying to block the order," according to the O.C. Register.
Former Republican Assemblyman Ray Haynes says that asking Republicans to raise taxes is like asking Democrats to end collective bargaining – it is a career killer for Republicans.
"Democrats are asking Republicans to end their political lives, but are not willing to end their own. Democrat constituency groups are asking Republican constituency groups to sell out their core principles, but are not willing to sell out any of their own," Haynes explains, in the Sacramento Bee.
That doesnt' seem like a fair thing for the Democrats to do.  But then they could care less if the Republicans anger their base.
It seems reasonable for the Democrats to budge on some of the cuts proposed by the Republicans.  Click here to see what some of those cuts are.  Unfortunately most involve cutting education.
The Democrats proposed tax increases will mostly target what is left of our middle class.  Click here to see what those proposals are.
I don't see any resolution to this mess on the horizon…and the state will soon run out of money.  What a mess.  I wonder what Governor Gray Davis would have done, in Schwarzenegger's place?  Or Governor Pete Wilson?