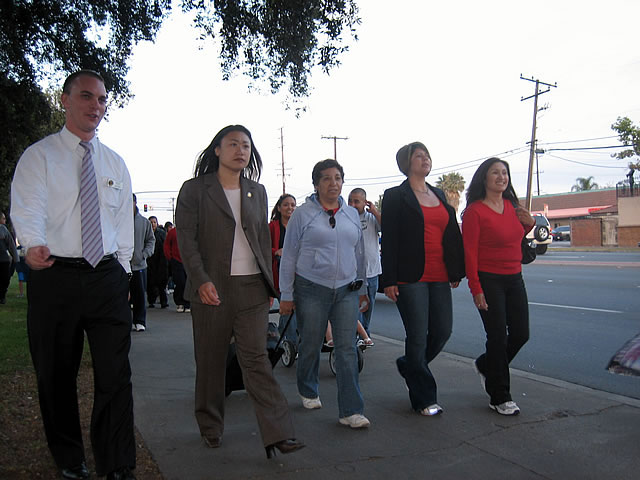 This just in, apparently Supervisor Janet Nguyen has been trying to help fund a gang study in Santa Ana, where the EPIC/Gang Commission has petitioned the Santa Ana Public Safety Committee, which is comprised of Clowncil Members Claudia Alvarez and Sal Tinajero, and David Benavides.
Alvarez and Tinajero have turned down the request to fund the gang study on the grounds that it will put money in the hands of gangbangers when researchers pay them to give up information. However, EPIC member Art Lomeli has debunked that assertion.
You want the truth? Alvarez and Tinajero are playing politics. It is an election year for Alvarez. She DOES NOT want to admit that Santa Ana has a gang problem. Thus she continues to reject the gang study because she does not want the truth to be known. The fact is, our city is in the grip of a gang war. In fact recently a father was gunned down while in his front yard, in full view of his children, as he was caught up in a gang crossfire. The Clowncil did not make mention of this murder in Monday's Clowncil meeting.
So Supervisor Nguyen is willing to contribute $25,o00 to the gang study, but the Santa Ana Clowncil Members don't want the money because they don't want the truth to come out. They are playing politics while people die.
Blue County blogger Sean Mill keeps attacking Supervisor Nguyen but he is SILENT about the horrible actions of his fellow Pulido gang members, Tinajero and Alvarez. How sad is that? Apparently politics is more important to these clowns than solving problems.
In fact Tinajero tried to rip our fellow blogger, Thomas Gordon, on Monday night, after Thomas spoke up during public comments about the tragic death I referenced above. Tinajero immediately shot his mouth off saying that he is tired of whiners who show up to meetings but do nothing to help. At that point Councilman Carlos Bustamante piped up and thanked Thomas publicly for working with him, side by side, this past weekend to fix up a local public park. Where was Tinajero that day? Take a guess. He sure wasn't working at the park!
Speaking of not showing up, I did not see Alvarez and Tinajero when Supervisor Nguyen marched with Santa Ana Council Member Michele Martinez in a march for peace and against gang violence (see picture above). Sean wasn't there either. Nor was Pulido.
Supervisor Nguyen wants to be part of the solution in Santa Ana, but the Clowncils want to do nothing so they can get reelected. When will Mill speak up about THAT?