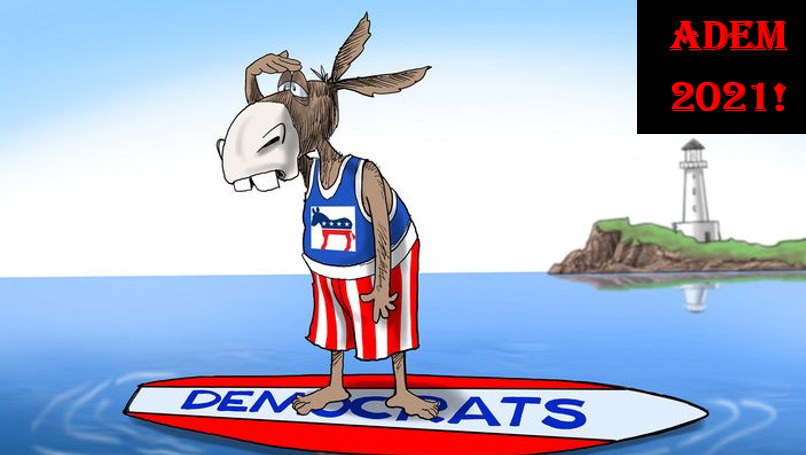 Yes, you read that headline right.  Not only did the California Democratic Party mail out ballots way too late (which may have partly been the Trump-sabotaged Post Office's fault) and then correctly extended the voting deadline; not only did they then send out ballots for the wrong districts to many people, send them out even later to many more, and never sent out a ballot at all to many Democrats who had properly and timely requested one (at least a dozen in OC who have complained to this blog); not only did they not respond to e-mails or answering the phone… but we now find out that they have over a thousand ballots that they are refusing to count because they "came in too late" and they don't want to re-calculate the results.
Those results were one-sided enough to make SOME of us suspicious.  In my own 69th district (Anaheim/Santa Ana) not one member of the progressive/good-government "Party of the People" slate made the top seven, which was all taken up by the establishment / labor union candidates – in previous years the two sides had more equal results.  I figured that this year the establishment side just out-organized us, and Covid may have helped them.  But I also notice that everyone I know who got their ballots late, faulty, or not at all, were folks who would have voted progressive.
Add to which: victorious progressive candidates would have all gone on to vote for progressive challenger Delaine Eastin for state party chair, while the establishment candidates are mostly happy with current chairman Rusty Hicks, so it's understandable that people would be suspicious over these results.
Well, SOME of these results could change if these 1000+ late votes are counted, grassroots trust in the Party might make a LITTLE bit of a comeback, and all the f—-d up circumstances totally justify the late counting.  And what would be the DOWNSIDE of counting them late?  It's not like figuring out who the President is gonna be or something. 
The Chair of the CDP's Progressive Caucus has put together a petition (delivered today, i.e., Saturday) asking the E-Board to count these late ballots and revise the results accordingly — which the Chair has not so far been willing to do.
We're not sure of of the identity of DPOC's E-Board rep(s), but when we find out we'll let you know so that you can let them know your view on shutting dissenting voters out of elections as if this were Florida!
When Monday comes along, let the CADEM folks (who are so far refusing this late count) know of your discontent by e-mailing adem@cadem.org, and repeatedly calling
916-442-5707
La Luta Contiua!