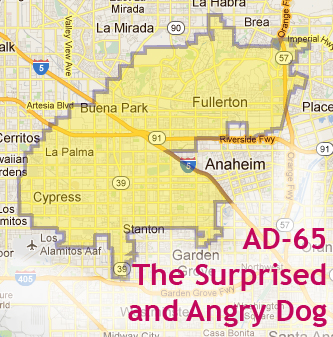 Ideally, you will have read the introductory post first — but if you're here to "cut to the chase," that's fine.  I mean, we're not going to do that, but you can skip down if you want to be left confused.  We'll see you when you come back up here.
This is the least competitive of the remaining races, with only 12 men and 9 women running in Assemblywoman Sharon Quirk-Silva's district.  There is a slate, headed by Mirvette Judeh for E-Board, but it's not uniformly of the left.  (Maybe it's uniformly "progressive," but if so it's because the word has lost almost all of its meaning.)
The first principle that applies given the attack on the ADEM leg of the three-legged stool, discussed in the introductory post, is that if someone can easily get an appointment from a PLEO (party leader or elected official), and if that won't compromise their positions, then that's the leg of  stool where they belong — not this one.  Here, they're edging out someone likely tied to the electoral grassroots, which is what the party needs.  There, they're just going to enjoy the convention and vote as their candidate's Chief of Staff directs.  That's not what we need on the DSCC (Democratic State Central Committee — the governing board of the state party.)
There is an exception, though, and Mirvette falls into it.  If you are running for E-Board, you have to first be elected as an ADEM, rather than being a Central Committee member of PLEO appointee.  Mirvette is running for E-Board; despite what I expect would be a substantial number of PLEOs who might be willing to appoint her statewide, she is properly considered here.
Here are the male (technically, the "not self-identified as female") candidates:
Ahmad Zahra, Benjamin Gonzalez, Connor Traut, Eric Barlow, Gregory Ferguson, Harry Langenbacher, Ian Macdonald, Jasson Morris Baker, Joese Hernandez, Jose Trinidad Castaneda, Luis Flores, Rashad Al-Dabbagh.
This group contains several really good activists: just the kind that the assault on the ADEM leg is designed to edge out.  So the first thing we'll do is remove the people who should be getting appointments — either "inside the district" ones from one of the officeholders or top-vote-getters or "outside the district" ones that will likely be a tradeoff between an inside-the-district legislator and someone else.  In this district the PLEOs are Gil Cisneros, Josh Newman (still the high vote-getter), and Quirk-Silva.
Males and Such
So, #1: Do not vote for Councilmembers Ahmad Zahra (of Fullerton) and Connor Traut (of Buena Park).  They can get onto the DSCC by appointment.
Zahra is a colleague of Quirk Silva's husband, Jesus Silva, and I would expect that she'd be happy to arrange one.  (It would also tie him a little closer to Jesus, which is itself good.)  If she wouldn't play ball, well, he's the first LGBT Arab elected official either anywhere or hereabouts, and lots of politicians would like to say they appointed him on that basis alone.  The likelihood of his being overlooked is minimal.  And he's not going to be giving up his ideals to represent an elected official, because he doesn't seem particularly ideological.
Traut, the former Boy Wonder of East County, may be the most well-connected Democratic City Councilmember in the County, with ties to a strong fundraising family.  And, he has generally taken positions that make the more moderate Democrats in OC (and elsewhere) smile.  He is as PLEO a type of candidate as they come; having a tie to an out-of-district candidate would only empower him more.  He will probably be better than whoever he'd edge out of an appointment, whereas he's not as well tied to the grassroots as whoever he'd edge out here.
So that leaves us with choosing seven representatives from ten choices.  It's not all that difficult.
Ahmad Zahra, Benjamin Gonzalez, Connor Traut, Eric Barlow, Gregory Ferguson, Harry Langenbacher, Ian Macdonald, Jasson Morris Baker, Joese Hernandez, Jose Trinidad Castañeda, Luis Flores, Rashad Al-Dabbagh.
McDonald (environment), Hernandez (Latinx), Castañeda (Latinx and environment — and, conflict noted, my former client), and Al-Dabbagh (Arab-American Caucus and, conflict noted, has sometimes written for us) are all strong activists in their areas and aid the CDP's knowledge of policy and its ties to voters — including one's on the margins of our obtainable electorate.  Flores is, as I recall, one of Traut's proteges who was just elected to the Centralia School Board.  MacDonald just ran for Buena Park City Council.  Hernandez has shown real skills as a campaign manager.  This is a good group.
I don't have strong feelings about the final two seats: I found the statements of Barlow, Gonzales, and Langenbacher to be a bit above the rest, but you can read them (navigate to AD-65 statements) and come to your own conclusions.
Females (including Self-Identified)
Flores is the only one of the "self-identified as female" candidates who lacks a candidate statement, so I'm not supporting her.
Rule #1: You Have to Vote for Mirvette
That's just the way it is.  She is hated by the anonymous trolls, because they can see that she's a powerful, competent, Muslim woman and apparently that drives them bonkers.  She's also an up-and-coming party leader and will be a welcome addition to the E-Board, which requires her getting elected.
So we pick six out of the revised list, which is:
Allison Guzman, Barbara Nelson, Bobbi Lee Smart, Josephine Flores, Mirvette Judeh (EB), Patricia Tutor, Rebecca Kovacs-Stein, Sunny Youngsun Park, Susan Sonne.
Park is a new Buena Park Councilmember, but I don't think that she has the heft to ensure an appointment.  Besides, she's as progressive and grassroots as her competition.  Yes, she does have "the sign thing" — but the voters elected her anyway and I highly doubt that the OCDA is going to jail her or anything.  If people want to oppose her on that basis, it's up to them, but I wouldn't.  She also brings CDP some useful and badly needed ties to the Korean community.
Of the others:
Guzman is an educator fighting for education.  SQS would like her
Nelson is an influential advocate for women, particularly in politics
Smart is trained in sociology and has a strong sense of class issues (yay!)
Tutor endorses a nice list of progressive issues, but less about herself
Kovacs-Stein is a notable county advocate for the homeless
Sonne's statement is very good — informative about herself and the issues
I think that Tutor and Guzman are a step behind in strong competition.  Either would be fine.
Recommendations:
Men:
Definitely Ian Macdonald, Joese Hernandez, Jose Trinidad Castañeda, Luis Flores, and Rashad Al-Dabbagh.  AND VERN ADDS LANGENBACHER.
Two one from among Benjamin Gonzalez, Eric Barlow, and Harry Langenbacher.  (Or leave two spots blank, in case PLEO-appointment types Zahra and Traut win anyway.)
VERN HERE.  VOTE LANGENBACHER FOR SURE – A great activist that Greg doesn't know.
Women:
Vote for Mirvette Judeh (also E-Board), Barbara Nelson, Bobbi Lee Smart, Rebecca Kovacs-Stein, Sunny Youngsun Park, and Susan Sonne
Then, either Allison Guzman or Patricia Tutor for the final seat.
(You have no idea, AD-65, how easy you have it compared to the other five districts!  Read them and see!)
Questions for the candidates, comments about the candidates, and comments by the candidates are all welcome!