.
.
.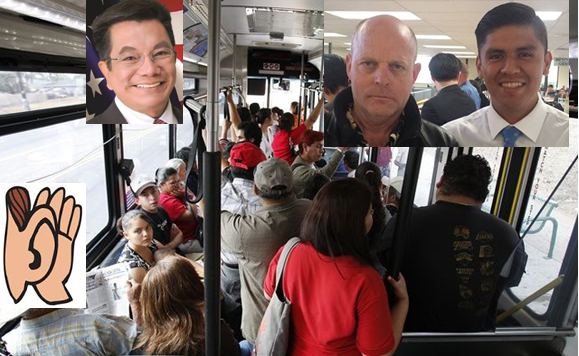 I'm torn.

On the one hand, this is your Weekend Open Thread, so you should feel free to talk about anything on this post or anything else you find interesting, "within broad bounds of decency and decorum."  But on the other hand, be careful what you say if you're on an OCTA bus, because it's come to our attention that those of us who take OCTA buses are under constant surveillance.  Remember this video from Kelly Thomas times?

We were all so shocked by what happened to Kelly and how brutal the cops were, that we mostly didn't stop to think, "Wait, why are these bus riders being video- and audio-taped from the ceiling of the bus?"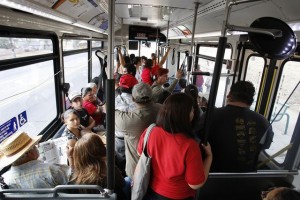 Turns out this is a nationwide concern.  Our webmaster (and brief-termed fire-breathing Fullerton councilman) Travis Kiger passes along a recent Washington Post piece about Maryland legislators trying to stop surveillance on their own Baltimore-area buses.  Says state senator Zirkin:

"I find it outrageous. I don't want to overstate it, but this is the issue of our generation. As technology advances, it becomes easier and easier to encroach on people's civil liberties… I can make an argument to tape everybody, everywhere, everywhere they walk, everywhere they talk, and you can make the excuse for homeland security. But that is not a valid reason to encroach this fundamentally on people's privacy rights."
Adds Travis:
"There are privacy implications for the active recording of thousands of seemingly private conversations per day across the OCTA fleet. Private parties would be committing a crime if they participated in this type of recording activity, as California is a two-party consent state. At the very least, the OCTA should be required to post notice that audio is being recorded."
I'm reminded of another recent story, a January one in the Voice of OC that didn't get much attention, which revealed that Anaheim police "have spent several years secretly building an inventory of powerful cell phone surveillance devices and making them available to neighboring cities in Orange County."  So maybe, also, while feeling free to talk about whatever you want "within the broad bounds of decency and discretion," you should remain aware that The Man could be listening in and taking notes, whether you're on the bus or your cell phone.

Damn.  What could The Man have heard me talking about the last day or two, whether on my cell phone or on the bus?  (Which actually I have a car now.)  Probably He would have heard me going on about my adventures and observations on SigDay – that is, that exhilarating time every two years when political candidates have to show up at the Registrar of Voters by 5pm with the required number of signatures to qualify to run for office.  That was yesterday.

I spent the rainy afternoon driving around my young friend Victor Valladares (right) getting signatures from old Democrats I know in the 72nd district.  You've heard about Huntington Beach's Oak View barrio and its battle against Rainbow Disposal's stinky transfer station;  Victor is one of the main community activists involved in that issue.  Over the last few months he's started to get more and more active in the Democratic Party, and just the day before he'd heard about the possibility of running for the local Central Committee, so between me and him we made sure he got 36 signatures – a huge cushion over the 20 minimum – and we got to the Registrar just in time!

It wasn't as exciting and crowded as two years ago though – SigDay 2014 which I memorialized in "The Fail of Troy," when Los Al councilman Troy Edgar and his consultant Brett Barbre were busted trying to collect signatures after the 5pm cutoff time and disqualified from the Clerk-Recorder race.
First people I saw there were Mayor Bao, still stubbornly running for Congress;  Jesús Silva, the Frank-Pantones, and a few other Democrat friends;  gawky snotty Reg reporter Marty Wisckoll;  the Other Crooked Behemoth Probolsky (not the Push-Polling One);  and our own Greg Diamond who was there helping Anaheim jeep legend Brian Chuchua with his independent Assembly run.  Now, THAT'S news that I haven't seen printed yet – Dems, independents, and honest Republicans now have a CHOICE in the District 68 race against the kleptocratic mediocrities Harry Sidhu and Steven Choi, and the honest but psychotically xenophobic Deborah Pauly.  NOW you have the option of voting instead for the founder of the Anaheim Small Business Association and treasurer of CATER, who may be 78 but can still slice right through financial chicanery faster than anyone I know.

Anyway, tiring quickly of chewing the breeze with my Dem compatriots, I spied an eccentric, loquacious, Republican politician sitting all by his lonesome, so went over to sit with Garden Grove councilman and Supervisorial candidate Phat Bui.  I complimented him on his 2014 music video (below), expressed frustration over his colleague Chris Phan not standing firm against Poseidon (without mentioning that I know Phat is even worse on that issue), and took no position on Mayor Bao's edict that "Phat Bui is a dick."

He explained to me at length what he does for a living – something about developing computer chips that make it easier to update your financial info on pre-approved credit cards.  He described how he got into politics – "I used to give money to everyone – Van Tran, Janet Nguyen – and finally after watching them a while I thought I can do that better myself."  I asked what now seems obvious – "Hey – you're running for Supervisor – that means you're NOT running for Mayor as people had thought."  "No.  I wanted to run for Mayor, but too many people were asking me to run for Supervisor."  He wouldn't say who these "people" were.  But – see, Bao – Mayor is still available!

Establishment Republicans have been freaking out over Phat's running against incumbent Andrew Do (left), and suspect that it's some union plot to keep Andrew under 50% so he has to waste money through the summer and fall running against Democrat Michele Martinez.  Phat insists that he and other "conservatives" and Republicans are just very dissatisfied with Andrew's performance so far – he names off a few examples of unnecessary waste of public money, as well as Andrew sending out mailers that don't specify who paid for them.

Here's one thing I didn't realize – Andrew is no longer a Janet Nguyen ally.  I had thought of him for years as a Janet puppet, but according to Phat, they had a falling out just a couple weeks after he took his seat as Supervisor.  Interesting.  Had I just missed that?  I have noticed Andrew here and there doing surprisingly independent things – from criticizing Tony Rackauckas' redundant and wasteful DNA bank, to voting against Michelle Steel's pro-Poseidon resolution last month.  I need to look into this – Andrew might be better than I thought.
In any case, WEEKEND OPEN THREAD – ON YOUR MARK – GET SET – GO!