.
Mathew Sim (pronounced "Shim") doesn't like to talk about the dollar amount of losses he took from the July 24 riot.  What's worse, he tries to explain, is that "it hurts his mind."
He can't understand why anyone would want to harm his business, the T-Shirts Outlet, which has been giving back to the community since he started it in 1990 (ten years after he came over from Korea.)
For over two decades he's been regularly giving clothes to the local homeless, and donating for free lunches at nearby St. Boniface Catholic Church.  What seemed to cheer him up most was a few sheets of handwritten sympathy notes from Boniface parishioners, and the fact that a few Hispanic kids showed up early the next morning and volunteered to clean up all the broken glass outside the shop.
Why would anyone want to vandalize, and then rob, Mr. Sim's shop?
I sympathized with him, told him it was random, and that the people who did it probably regretted it the next day (which I hope is true.)  I explained that six of their young neighbors had been shot by the police this year so far (and five killed.)  And that politicians – well-meaning politicians – had encouraged them to show up at the Council meeting and make their voices heard.  And that the meeting was so crowded the fire marshals
wouldn't let most of them in.  And that the Mayor was working out a way for them to take turns coming in and speaking.  But that by then it was too late and they stormed off in a rage, breaking windows at random.  I told him, I might have felt like breaking windows at that point.  Maybe even Mr. Sim would have.
But whoever took advantage of the broken windows ($2000) to jump into the shop and steal $10,000 worth of jeans is an asshole, and you can quote me on that.
$12,000.  Can Orange Juice readers really spend that much at a T-shirt shop?  Let's see.
A few hundred people will read this story.   What if each of you went to the "T Shirt Outlet" at 280 W. Lincoln in Anaheim (at Clementine Street) and brought two or three shirts for you and your kids or friends?  Look at the variety!  Lots of macho stuff, and lots of Jesus stuff.
But you can make your own pattern.  They do silk screens.  You could get something made that's not necessarily macho OR Jesus, think of it!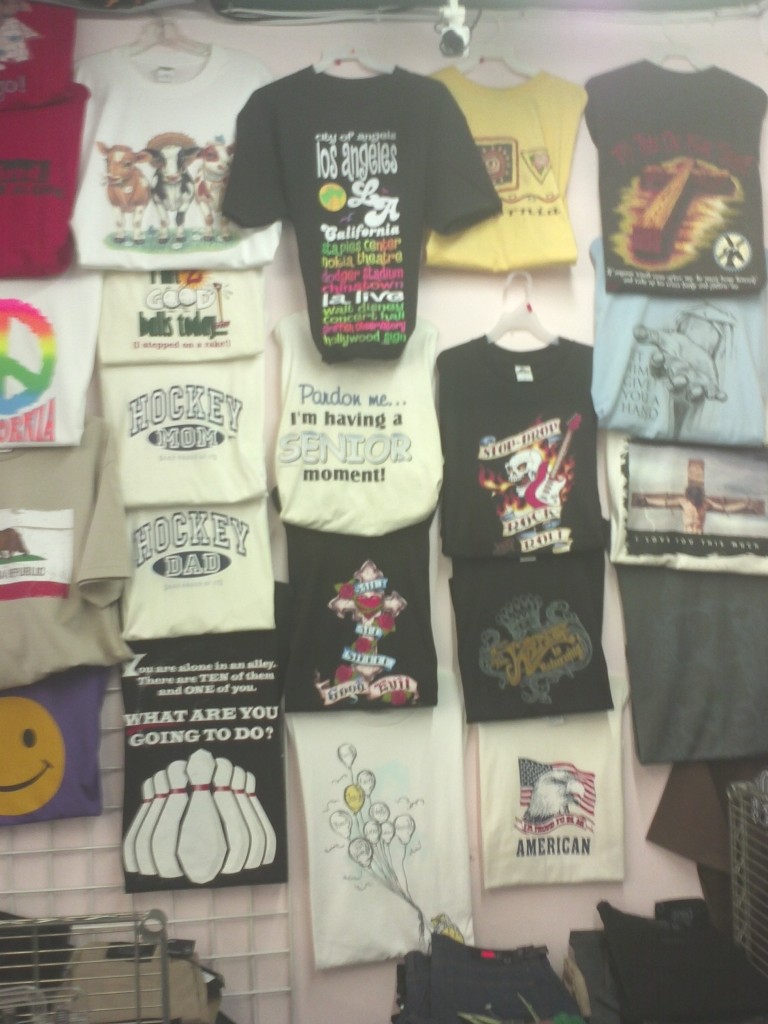 I know that, speaking for my friends at Take Back Anaheim, as soon as our campaign manager Tim Whitacre is back in town WHICH SHOULD BE TODAY, we're going to spend several hundred on some new Take Back Anaheim t-shirts.  Not sure if we already have the silk screen made or not.  If we do it'll be $590 for a hundred shirts, if we don't it'll be $650 for a hundred shirts.
How about the rest of you?  Hey, I know, what about those Building Trades Union hardhat guys who took up most of the seats at the meeting to rail against the "Let the People Vote" measure, so that there was no room for anyone else?  How about you guys get your selfish union butts down to the T-Shirt Outlet and buy a big batch?  They could, maybe, say something like, "Don't Let the People Vote!"  I don't know…
Mr. Sim was excited about the upcoming meeting next Wednesday – a local business group, "Anaheim Coalition for a Peaceful Community" had been handing out flyers just that day, encouraging business owners to come.  Mr Sim wanted to know if I was going as well!
This was yesterday afternoon in the middle of the marathon closed session.  I had to tell him I wasn't sure if the meeting was actually going to take place, we had to wait and see.  I told him 3 out of the 5 councilmembers didn't really want to have the meeting.  I told him that was mostly because there were two things they didn't want to let the people vote on, and I explained district elections and hotel subsidies to him.
Well, Mr Sim, I know you're reading this, and Wednesday's meeting is ON after all!  I'll see you there.  No – I'll probably see you before that.  And everybody who's reading this, tell Mr. Sim and his lovely camera-shy wife Christine that the Orange Juice sent you!
280 W. Lincoln Ave, Anaheim, at Clementine.  (714) 758-9011