The press release was loud and proud:  "S.O.A.R. PAC," the new political action committee for Anaheim hotels, dominated by the Disney Corporation, and dedicated to "Protecting the Interests of Anaheim's Resort District," thinks the world of former Anaheim Mayor Tom Daly, and enthusiastically backs him in his quest to be the next Assemblyman for the new (overwhelmingly Latino) 69th District.  (Santa Ana / Anaheim.)
"We are thrilled to endorse Tom Daly for the 69th Assembly District" said Jill Kanzler, S.O.A.R. PAC. "He has a proven record as a local leader who will continue to fight for sound policies that foster job creation and a business-friendly environment. He shares our passion to make Anaheim and the rest of Orange County the best it can be, as one of the world's top tourism destinations. Few elected officials have shown as much support for the Anaheim Resort District and we are confident that he is the only candidate who will continue to be a strong business voice in Sacramento," concluded Kanzler.
Anaheim hotels?  Disney? Haven't they been in the news a lot lately?  Why exactly are they supporting Tom Daly in this race, whose main opponent is the progressive candidate Julio Pérez?
Well…there was the labor dispute a year or two ago, when hotel workers fought back against their employers' attempt to yank away their health benefits.  But that's been settled, and Disney's labor relations are now relatively amicable.
Most recently there's the furor over the "bed tax giveaway," in which three out of five Anaheim councilmembers voted to give one rich developer a gift of $158 million of taxpayer money to build two luxury hotels at the GardenWalk mall.
But that's a local, city issue, one that an Assemblyman Tom Daly or Julio Pérez couldn't really affect for better or worse.  What is the main thing that Disney and the resorts hope for from Daly and fear from Pérez?  (And Martinez is no different from Daly on this and most other things except her skin color)
What are Enterprise Zones?  A member of the genus corporate welfare, the species pork, and the subspecies big well-intentioned liberal ideas like Redevelopment and First Five Commissions that sounded good at first but over the decades have become corrupted and are now mainly defended by pols on the take, they basically consist of huge tax breaks – state tax breaks – for corporations, for each employee they hire in a certain area that's deemed in need of help.  Let's see, what could go wrong with that in the decades since these were started in 1986?
Enterprise Zones have cost our beautiful state of California, since their birth in 1986, $3.6 billion in lost revenues – translating into the ruthless cuts we've seen in education, public safety, healthcare and infrastructure this past decade.  And that expense grows, blooms, blossoms, by 35% each year, up to about half a billion a year now.
Some might say – not MANY, but SOME might say – that this huge expense is worth it, if it creates jobs – the original justification.  Pero…
Enterprise Zone credits DO NOT CREATE ANY NET JOBS, as confirmed by an exhaustive PPIC study which concludes:  "the absence of evidence of a beneficial effect of California's enterprise zones on job and business creation clearly calls into question whether the state should continue to grant enterprise zone tax incentives."  Companies are motivated to maximize their number of one-time tax credits by "churning" jobs, constantly creating new seasonal jobs and jobs with high turnover, and laying off a workforce in a non-EZ to re-open in an EZ as we see below.  This whole "just give them tax breaks and they'll create more jobs for the rest of us" is just more of that pernicious "JOB CREATOR" nonsense we get from the right these days, except this is coming mostly from "liberal" technocrats.
Although the propagandists will rave about the benefits to your archetypal "small business," 70% of these credits go to huge corporations with assets of a billion or more. Companies with assets of less than a million claimed only 1.6% of Enterprise Zone credits.
"Enterprise Zones have spawned a cottage industry of consultants that make their money by trolling Enterprise Zones for businesses that have not yet claimed their tax handouts. They tell businesses how to claim an EZ tax credit retroactively for employees they hired over the last four years, even if that employee has left the job. Consultants then take a hefty percentage of the tax savings. All funded by our taxpayer dollars."
***************************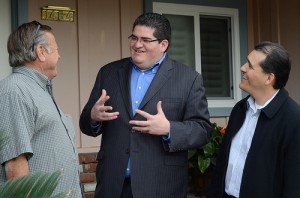 It makes sense that Enterprise Zones are high on Assembly candidate Pérez' radar, as he runs to represent the people and small businesses of Santa Ana and Anaheim.  As though the mess Santa Ana's EZ had made in that town was not enough, a new enterprise zone has just been created in Anaheim beginning this past February, something Julio's corporatist predecessor Jose Solorio worked very hard for and is quite proud of.
Now, Disney and the large hotel chains that bankroll Tom Daly's assembly run can join in the tax-break orgy each time they hire a seasonal worker!   And then, naturally, threaten absurdly to leave the state if there's a danger of them not getting that break!
Nothing particular against Disney… but on a certain level EVERY corporation is run by a lizard brain that will find its way to the highest possible profit and the lowest possible taxes.
When New Sheriff Jerry Brown rode into town in aught-ten, vowing to balance the budget and restore our fiscal health, top of the list of his targets was Redevelopment Agencies (RDA's) and Enterprise Zones (EZ's.)  Getting rid of the former was like pulling teeth;  rotten teeth but still.  It took him a few tries to get the required GOP votes under the 2/3 rule but eventually he did.
Yet, when he tried the same with EZ's, a mournful keening was heard across Sacramento – a wailing and a gnashing of teeth, rending of garments and all, this would not stand.  In short,  "an army of high-paid corporate lobbyists and consultants descended on the capital to protect their cash cow. They killed the elimination proposal, resulting in decreased funding for universities and safety net programs that people rely on in difficult recessionary times."  And the EZ's remain sacrosanct to this day, although a bold bipartisan contingent of responsible legislators remains, and grows, and awaits Julio to add to their number.
The defenders of EZ's love to trot out the odd small business owner who's benefited from the program, to tell their little anecdote.  Well, let's hear a BIG ANECDOTE about how the system REALLY works.
From Brisbane to Visalia
So, there was this company, Pennsylvania-based medical supply facility VWR International, which has operated in Northern California since the Gold Rush.  Last year they suddenly decided to shutter the south-bay Brisbane location, firing over a hundred long-time workers there, and head off to Enterprise Zone Visalia, to hire the same number of workers at much lower pay while reaping the huge tax benefits that come from "creating new jobs" there.  Well, I'll let furious Brisbane lawmaker Jerry Hill tell the first half of the story:
Not mentioned in this movie was evil GOP Assembly leader Connie Conway, who represents the Visalia area and masterminded this move.  In any case, if you watched the video like you were supposed to, you're wondering how Mr. Hill's legislation turned out.  Well, it didn't even get out of committee.  It was killed by paid-off corporatist Democrat Manny Pérez – henceforth to be known as "the BAD Pérez."  Even such modest, reasonable attempts at reform of these EZ's go down that hard, in the whorehouse we currently have in Sacramento.
What is a "Moderate?"  Why did we get "open primaries?"
I think about this a lot.  I opposed 2010's Proposition 14 which created the non-partisan primaries.  Along with progressive Democrats and conservative Republicans I opposed this plan to empower "moderates."  But the measure passed easily, with the public generally feeling that the biggest problem in today's politics was too much partisanship, not enough compromise.
And I saw perhaps a silver lining, in that maybe some of the Republicans who'd get elected would be a little mellower, more amenable to compromise with us Dems, and also possibly not such haters.  But I knew also that the "centrist" folks who would get through this new "Jungle Primary" would be the ones most likely to attract big corporate donors.  Not a good thing, in a world that's already ruled by corporations.
What do we mean by "moderate" anyhow?  I like the idea of Nathan Fletcher, a guy with conservative economic ideas but who knows how to meet the other party halfway to get things done.  But I don't like the mushy middle where whoever promises the biggest continued economic benefits to the biggest economic players gets the prize, gets to run things.
There is the bullshit story, perpetuated by Correa and Solorio apologists, that Orange County's one Democratic hotbed, the 69th AD, must be represented by a "conservative" Democrat because it's … in Orange County.  I only just noticed Chris Prevatt's January article demolishing that, but it kicks ass.  Read it now.
And also I wonder, because I always look for these sorts of things:  Can we honest liberals and honest conservatives agree on some things?  I feel like we're somewhat united in Fullerton, in our shared passion to get rid of the ossified insiders whose gravest sin is their unquestioning allegiance, identification, with the biggest moneyed interests in town – developers and the police union.  Maybe we can also agree that a guy like Tom Daly, unquestioningly allied with the big money in his area, is to be opposed.  And a straightforward representative of the working man, someone named Julio, is to be respected.
Oh – with all that in mind, now enjoy the press release that inspired this post:
Dedicated to Educating the Community and Protecting the Interests of Anaheim's Resort District

For Immediate Release: March 22, 2012

S.O.A.R. PAC Endorses Tom Daly for the 69th Assembly District

ANAHEIM, CA – The Support Our Anaheim Resort District Political Action Committee (S.O.A.R PAC) has announced its endorsement of Tom Daly for the 69th Assembly District. During his tenure as Anaheim Mayor, from 1992-2002, Daly was a lead advocate for the creation of the Anaheim Resort District. To date, he remains a strong supporter and continues to recognize the value of the Anaheim Resort District. The Anaheim Resort District represents less than 5 percent of Anaheim's land, and generates 50 percent of the City's tax revenue.

"We are thrilled to endorse Tom Daly for the 69th Assembly District" said Jill Kanzler, S.O.A.R. PAC. "He has a proven record as a local leader who will continue to fight for sound policies that foster job creation and a business-friendly environment. He shares our passion to make Anaheim and the rest of Orange County the best it can be, as one of the world's top tourism destinations. Few elected officials have shown as much support for the Anaheim Resort District and we are confident that he is the only candidate who will continue to be a strong business voice in Sacramento," concluded Kanzler.

S.O.A.R. PAC is a political action committee that supports pro-business, pro-resort candidates.

For more information about S.O.A.R. PAC, please visit our website at www.SOARanaheim.com