.
.
.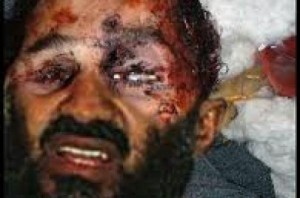 [Fake, but it fooled three Republican Senators!]
The President has made a very logical, intelligent and rational decision regarding exposing the world to the death photos and video of Osama Bin Laden.  He believes as many do that the photos would be manipulated, adulterated and created into propaganda tools which do nothing but inflame the passions of the uninitiated and certainly be used commercially to sell vulgar and despicable T-shirts and other products.
The solution Mr. President of course is a fairly simple one.  Invite the Arab Leaders of the world to a private showing of the photos and video of Bin Laden's undoing.  Use the best possible technology to be sure that those viewing the exposition cannot use any form of technology to reproduce any of the images presented.  No cell phones, cameras, video or remote viewing apparatus.  Unless those that want to view the exposition are willing to abide by those rules, they should not be allowed.  This goes for both friends and foe which demand to see the physical or photographic evidence.
Limiting who might be privy to the evidence of demise….is pivotal.
The private showing of the Bin Laden Exposition should be forth coming in the next few days.  Let those that are demonstrating in the streets, still thinking  that Osama Bin Laden is still alive…….let them chase after their own leadership – to view the evidence.  Requiring those world leaders that view the exposition to make a public statement of belief or of doubt – should be done as a condition of viewing the quasi-secret materials.
Good luck Mr. President…..you are doing just great!  Now put the final  stake where it needs to go.