.
.
.
Thursday, Feb. 24
10 AM, OC Fair Board meeting, Arlington east of Fairview, CM
The Dave Ellis-led Fair Board will be having one of their meetings tomorrow where they reluctantly let the public hear a little bit of what they're up to, and then suffer stoically through our comments, before slinking off to closed session to discuss things they shouldn't be discussing in closed session.  One thing they will be discussing (publicly) is their latest plan – what I'm calling their Plan C – to keep their hands on our Fairgrounds – their "profit-sharing" plan with Sacramento.  (It's still very murky what these profits are – they've variously said $800,000 last year, and also $4 million.)  But until Governor Jerry Brown replaces some of these guys – particularly Dave – we gotta keep a close eye on them.
In public comments some of us are going to want to bring up OTHER issues.  For example, where is that appraisal that public money paid for and seems to have been buried?  Also, a lot of Fairgrounds vendors who are having their rents jacked up EIGHTFOLD are going to raise some hell about that.
Me, I want to see if Dave Ellis is enjoying my story about him.  The popular Register columnist Barbara Venezia called me the other day (she'll be doing a story a week from Saturday on how badly the BLOGS are kicking the ass of the mainstream press in this County) and she told me a fun story about Dave's utter shamelessness.
Soon after the 2006 election during which Dave relentlessly trashed Barbara and her husband, he waddled up to her at a luncheon, all grins and with his hand out.  She didn't know who he was at first – back then nobody knew what he looked like, his picture hadn't been published, he wasn't on the Fair Board yet, and he did all his work in dark little cubbyholes.  "Hi Babs, I'm Dave Ellis, can we be friends now!?"
Barbara was speechless (unheard of!) mumbled "hi" and turned away.  Then Dave moved on to her hubby who was off smoking cigars with the boys, and said, "I really wish your wife would be my friend."  Mr.  B V growled, "JUST LEAVE HER ALONE."
Anyway this anecdote inspired me, and I'm going to go up to Dave after the meeting and say "Hi, remember me, I'm Vern?  Did you like my article about you? Let's be friends!"  (Just in honor of Barbara, you understand.)
Noon, "Invest in America Speak-out" at Rep. John Campbell's office
(Fashion Island)
What's neat is that even though this is a MoveOn.org event, I heard about it through a Libertarian who's also attending – the Orange Juice's favorite Libertarian Assembly candidate, Debbie Tharp!  Even though we appreciated John Campbell's (losing) vote against renewing parts of the un-American PATRIOT ACT, ALL of us are disappointed in him and his fellow Republicans' failure to do anything constructive to get Americans back working.  And no, bashing Planned Parenthood, cutting tiny popular programs like NPR and PBS, standing firm for continued tax cuts for billionaires and millionaires, and otherwise just generally playing politics, DOESN'T CUT IT.
Local residents of the 48th congressional district including MoveOn council members will each speak for several minutes with personal stories of how the economic downturn has affected them personally. The group will rally to demand that Congress act to increase employment and improve the economy. New members welcome always!

Message from host:

Status: Public, open for RSVP, 35 attendees (max. 75)
Address:
610 Newport Center Drive (Map)
Newport Beach, CA 92660
Directions: The office is located in a tall white office building, across from the Neiman Marcus and Bloomingdale's stores in Fashion Island. Follow MacArthur Blvd or Jamboree south to San Joaquin Hills Road, then turn South toward the mall at Big Canyon Road / Santa Rosa Drive. We will group on the sidewalk at the street corner, by the steps leading up to building 600 (the 24-Hour Fitness location).


…and Candlelight Vigil at 5:30, Santa Ana Federal Bldg,
in solidarity with Wisconsin!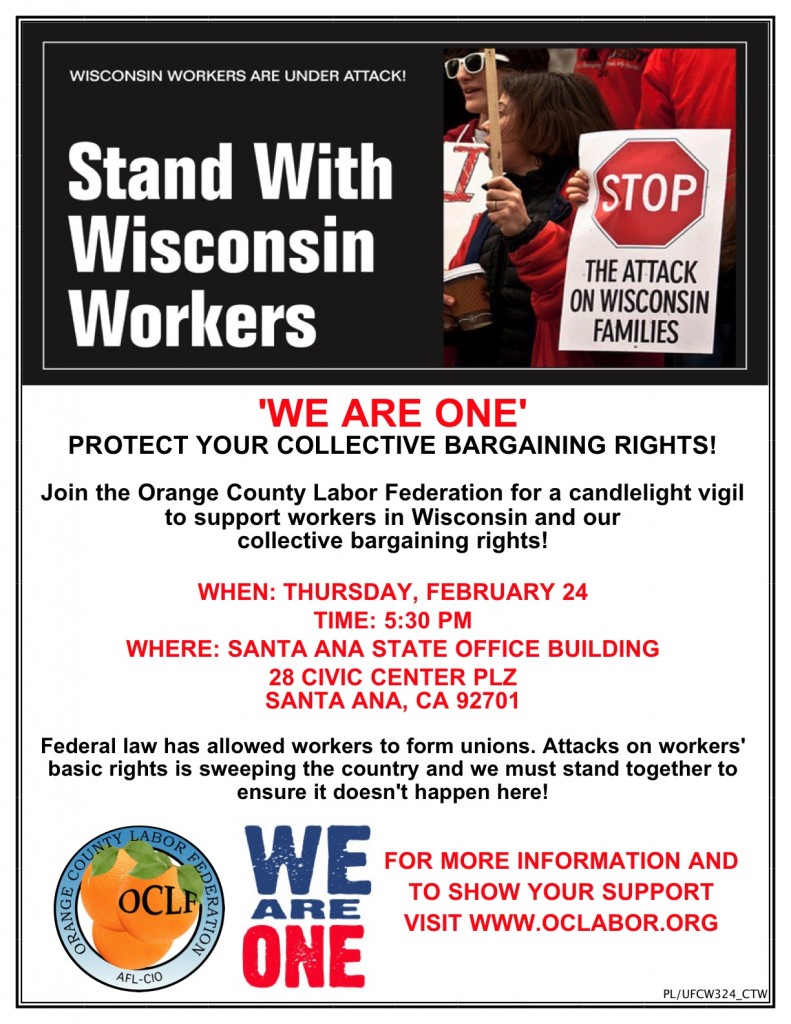 *
Oh, that's not enough?  Then speed up to Fullerton for Comic Book Chicanos with Gustavo and Gabriel at 6:30! (Sorry, I have to work Thursday nights…)