.
.
.
meet:
Hirota

"There are those who call me……Tim."
Our new conservative blogger "Hirota" introduces himself: "Born, raised and currently residing in Santa Ana, I'm a booze-swilling (and selling), cigar-smoking, guitar-playing father of two, husband of one. But, just to make sure to piss Liberals off, I'm also a Catholic, white, gun-owning Conservative….who does his homework. [BS, he's half-Japanese -ed] I firmly believe that people are free to choose their own path, as long as a) they also accept all the consequences of the choices they make and b) those choices do not violate the rights of others."
Hirota's motto: You are the sum of the decisions you make in life. Hirota: OUT!
Luke Skywalker
Luke Skywalker is a So-Cal native and life-long resident of the City of Anaheim. He is coming to the OJ fresh from exile from the "Liberal" OC, after writing a scathing, but entirely accurate post regarding the childish actions of the Sith (wanna-be) losers there. Skywalker, although young, has experience in field operations and candidate/campaign management and has worked on and consulted with over half a dozen campaigns from the School Board to County Office level. He's fairly well known throughout the political community and has friendships with some of OC's most powerful operatives and residents.
Luke will be cross-posting blogs here from his personal site, www.thepoliticaldish.com. Some of us are still mad at his intemperate, unfair, and somewhat arrogant attacks on the OC Dream Team (and allies) for their pressuring Loretta Sanchez to co-author the DREAM Act. But still, the Force is strong with this one.
Guy Fawkes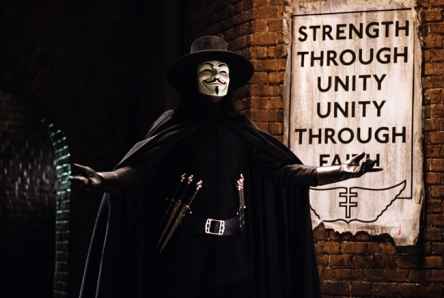 A longtime Irvine resident and fierce critic of the Agram regime, Talibani OC congressmen, and the disappointing, petty Liberal OC boys, Guy Fawkes is a "left libertarian" and a great and tireless (but good-humored) activist for civil liberties causes, especially marijuana legalization. Juice readers are already familiar with his rowdy sensibilities through his frequent comments as "GF."
Guy's favorite blogger is the great civil libertarian Glenn "Glennzilla" Greenwald, who also happens to be one of editor Vern's favorites. Also, there was something about a "Stateless Society" – Guy, what was that again? Call me…
Mayor Quimby
Is or was our Mayor Quimby an actual Mayor in the OC? Well, all I'll tell you is he was an elected official for many years, but I'm not saying what city. Years ago he held office as a moderate Republican, then as he saw his party get more and more extreme, corrupt, and really useless, he inconspicuously became an independent. By now he is a quite active progressive Democrat. But it's not Quimby who changed but the entire landscape that has been lurching rightward year after year for the last few decades, as Quimby holds true to his ideals of good responsible government.
Quimby loves to rag on OC Republicans as well as Democrats when they don't live up to their ideals, and he's extremely knowledgeable on finance, economy, and how running local governments really works. And he brings an irreverent, biting wit to bear, to boot.
All we need now is a few girls. As Gabriel says, it's a "sausagefest" around here!