Just in case you thought there was any doubt that public service might not be the number one priority of Fullerton's boys in blue, take a look at the document below, a veritable "how-to" article on political influence written in 2003 by FPD PIO and union front-man Andrew Goodrich.
See, it's all about how to leverage your members dues to create a political machine and get what coming to you. Actually it's about defining what's coming to you and getting a subservient collection of clowns you elect to go along for the ride.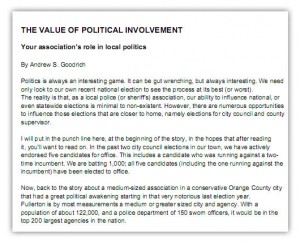 Read "The Value of Political Involvement" (pdf)
I especially enjoyed Goodrich bragging about batting one thousand. The record looked great in 2003, but then the wheels started coming off the squad car. Chris Norby and Shawn Nelson jumped ship PDQ (although Norby stayed on the Police Reservation long enough to vote for the obscene 3@50 deal in 2001, thanks Norby). The pitiful police-backed pipsqueak Mike Clesceri was tossed out in 2004 after a mere one term; and ditto the equally useless Leland Wilson who was just a bad memory by 2006.
Read the rest of "Peer into The Thought Process of the FPOA"