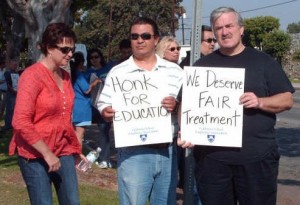 Every morning I drop off my son Jacob at John Muir Fundamental Elementary School.  We have to park and walk and as we do so we always stop and greet the crossing guard.  She is there faithfully day in and day out, keeping us safe.  She does a great job!
Thousands of SAUSD classified workers, just like her, have been crushed over the past few years, under the thumb of SAUSD President Audrey Yamagata-Noji, and her board majority.  They have repeatedly laid off these hard-working employees, who do so much for our district.
The irony is that they have done this while building a $22 million dollar warehouse and while remodeling the District's headquarters.  And they have done this despite sitting on a huge reserve.
Our classified workers live here in Santa Ana, for the most part.  They are our neighbors and our friends, and often our family.  Needless to say, they are tired of the roller-coaster that Yamagata-Noji keeps relegating them to.  These layoffs not only hurt the classified workers, they are devastating to their families and to the businesses they patronize here in town.
Click here to read the rest of this post.