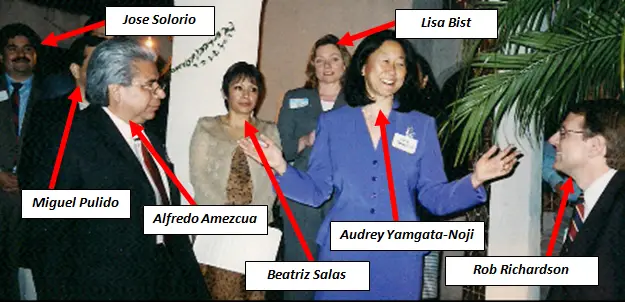 We often forget our history – and you know what that means – we are doomed to repeat it.  That cycle is happening right now, here in Santa Ana.
It is amazing to me that so many people have been completely snowed by mayoral challenger Alfredo Amezcua.  Good people that I have worked with for years actually believe his spin, that he is some kind of revolutionary.  The record simply doesn't reflect that.  Amezcua has been the ultimate city hall insider for over twenty years.
Check out the picture on top of this post.  There you will find Amezcua, celebrating the recall of SAUSD Trustee Nativo Lopez; alongside Mayor Miguel Pulido; then-Councilman Jose Solorio; then-Councilwoman Lisa Bist; SAUSD Trustee Audrey Yamagata-Noji; who is running yet again this year; and Rob Richardson, who replaced Lopez on the SAUSD Board and is still there now.
The irony, that has been lost lo these many years, is that the recall campaign didn't want to stop with Lopez.  I met today with Beatriz Salas, who is also pictured above.  She was the parent who started the recall campaign against Lopez (and she has the documents to prove that).  Salas had some very interesting things to say today about Amezcua and the rest of the recall gang.
It turns out that they wanted to recall SAUSD Trustees John Palacio and Sal Tinajero too.  Salas showed me the paperwork.  She personally stopped this from happening because she liked Tinajero.  She later befriended Palacio as well.  But had the recall junta succeeded, it is likely that they would have gone after Palacio and Tinajero too.
Click here to read the rest of this post.