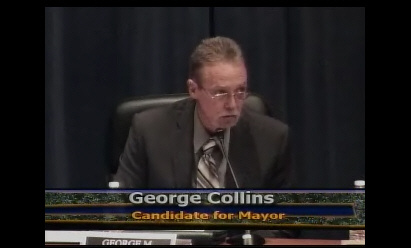 Santa Ana Councilman Sal Tinajero won in 2006, because of George Collins.  Mayor Miguel Pulido threw his entire political machine behind Jennifer Villasenor, but then Collins jumped into the race for Ward 6.  He effectively split the vote, allowing Tinajero to prevail.
Collins got 5,419 votes in 2006.  Villasenor got 12,922 votes.  Tinajero won with 13,802 votes.
Today Tinajero is part of a progressive majority on the Santa Ana City Council.  Villasenor is on the Santa Ana Housing and Redevelopment Commission.  And Collins?  He is running for Mayor.  Again.
Collins ran in 2008, which is also when Santa Ana City Councilwoman Michele Martinez challenged Pulido.  Collins ended up with 7,610 votes.  Martinez got 16,199 votes.  Pulido easily won with 30,352 votes.
How will Collins do this time?
Click here to read the rest of this post.