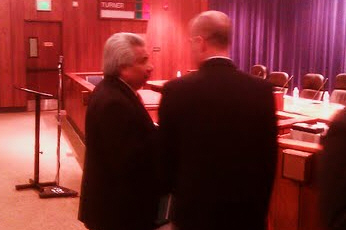 Santa Ana mayoral challengers Alfredo Amezcua and Charles Hart
Santa Ana Mayoral candidate Charles Hart clearly outshined the other mayoral challengers at last night's Com Link City Council candidates forum.
Hart explained in his opening statements that he has worked for seven years at the County of Orange, first in the Sheriff's Department and now in the Health Care Agency.
He said the top issues are safety, unfriendly business environment, and our schools.
He said that our local Enterprise Zone has had a negative growth rate – and that we failed to attract businesses even with tax cuts.  He said that there is no limit on taxes on businesses after the first year.  He talked about transparency and mentioned specifically Councilman Benavides and his monthly meetings with residents.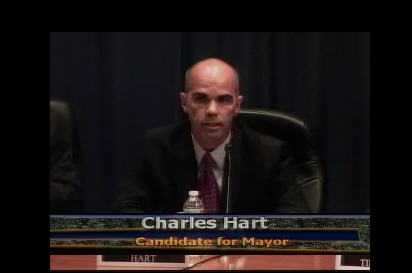 He said we need to "chop from the top."  Hart said he would cut, for example, Code Enforcement middle managers.  He mentioned that the Health Care Agency did that, and that they got rid of middle managers.  He however somehow hung on to his job even though he has no background or education in health care.  He also said he has a good, well-paying job.  I am sure he does.  And we the taxpayers are footing the bill.
Click here to read the rest of this post.