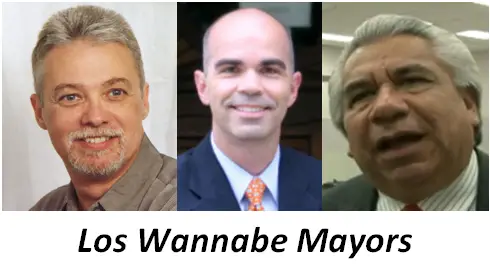 In a stunner, four challengers qualified today to run for Mayor of Santa Ana, perhaps dooming the campaign of Alfredo Amezcua, the former Rancho Santiago Community College District Trustee who was the first announced opponent to the incumbent, Mayor Miguel Pulido.
The other challengers include Charles Hart, a Republican and county government worker who is trying to pass the California bar exam; Roy Alvarado, whose nomination signatures are still being verified; and past mayoral candidate George Collins, a documentary filmmaker and Republican who lives in Ward 6.  Collins received 13.8% of the vote in 2008, when he first opposed Pulido, according to Smart Voter.  In 2006, Collins ran for the Santa Ana City Council, receiving 16.9% of the vote, according to Smart Voter.
Alvarado is registered as a Decline to State voter.  He is a retired contractor who is originally from New Mexico. It is telling that you cannot find him on Facebook.  Nor can you find any pictures of him online.  He often speaks at Council meetings, where he tends to oppose most things.
If Amezcua had been the sole opponent he might have had a shot.  Now the opposition vote will be split and essentially nullified.
In related news, Councilmember Michele Martinez did not draw an opponent, in Ward 2.  She has promised on Facebook to walk precincts for her fellow Council incumbents.
Click here to read the rest of this post.