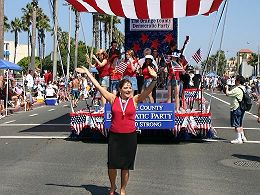 Picture Courtesy of Act Blue
Happy Fourth of July!
Important Events for Democrats
Join and/or support the OC Democratic Party's entry in the biggest Fourth of July Parade in the west.
This Sunday, Independence Day, July 4, join the proud Democrats of Orange County in the great Huntington Beach Independence day parade. Help show some of our numbers and diversity and have a good fun time and a great start to the Fourth at the same time.
MARCHING IN THE 4TH OF JULY PARADE
It's time for dancing in the streets with rockabilly by Danny Dean and the Homewreckers live on our float.
Join the Democratic party on the float or marching (or dancing, if so moved) in the largest Independence day parade west of the Mississippi.
We hope that you will be in the 4th of July Parade in Huntington Beach with us. We want everyone to see that Democrats are an active part of Orange County.
WHERE TO MEET:
Click here to read the rest of this post.