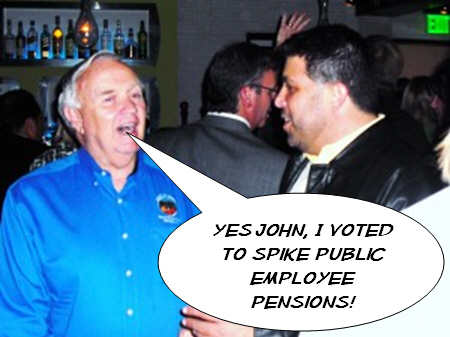 My colleague Larry Gilbert has written a post fingering State Senator Lou Correa for authoring Senate Bill 400, way back in 1999.  This bill allowed the now-infamous "3% at 50" pension spike – which has resulted in cops and firemen retiring at the very young age of fifty – and making a mint at our expense.
However, further review has revealed that while Correa did co-author the bill in question, he was one of several authors.  And when the bill came to a vote, it passed because Republican legislators voted for it en masse.
You can see for yourself how the State Assemblymen voted at this link.  Here are the Republicans who voted for the pension spike:
Roy Ashburn
Pat Bates
Bill Campbell
Bill Leonard
Rod Pacheco
Abel Maldonado
Robert Pacheco
Now those are just the Assemblymen who voted for the pension spike. Here are the State Senators who did so as well (and for the record NO Republicans voted against this bill!):
Ray Haynes
Jim Brulte
Dick Mountjoy
Stephen Peace
Chuck Poochigian
I probably missed a few that I did not recognize. See the full list at this link.
I expect Democrats to shill for unions, but when Republicans do it we all lose.  That is what happened in this instance.  A lot of Republicans ended up with blood on their hands.
It is unfair to try to pin the pension crisis on Correa.  SB 400 passed in the end because Republicans embraced it.  It is up now to our legislators to undo this damage.  However, if Republicans are going to spend their time fingering Correa instead of working for a solution, we aren't going to get anywhere.