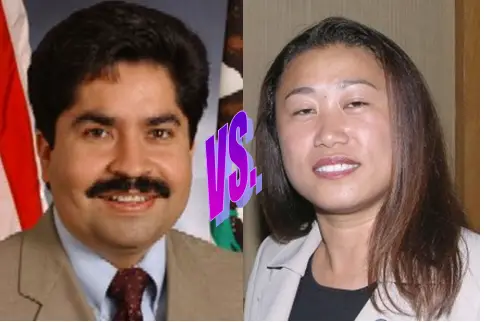 Is Supervisor Janet Nguyen trying to get rid of Latinos in her district – before Solorio challengers her in 2012?
Supervisor Janet Nguyen's imperious ways have finally done her in.  Just like that she has lost her majority on the Orange County Board of Supervisors.
"Janet Nguyen recently informed her colleagues that in preparation for the upcoming release of new Census data, she has formed a redistricting committee that includes her and Supervisor Bill Campbell. The three other supervisors, according to Nguyen's plans, would have staffers serve on the committee," according to the Voice of OC blog.
As one might imagine, this did not go down well with the other Supervisors.  John Moorlach and Pat Bates, in particular, were not too keen on Nguyen's plan to essentially ride herd on the proposed Redistricting Committee.
Bates pointed out the fact that this committee, as proposed by Nguyen, could end up violating the Brown Act.  Moorlach stated that Nguyen's domination of the committee would discourage the staffers on the committee from challenging her.
Why is Nguyen doing this?
Click here to read the rest of this post.