I just received this email from the Bill Hunt campaign and I believe it's worth a post, so here you go: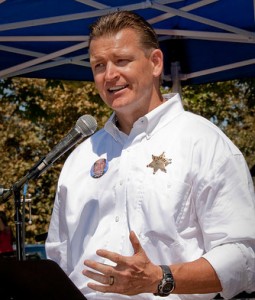 ATTENTION: CONCERNED CITIZENS OF ORANGE COUNTY !
This is a "Call to Arms!"
WHAT: A peaceful lunchtime Public Protest of political gamesmanship against Bill Hunt for Sheriff by the District Attorney's Office, SAPD Chief Paul Walters, The Orange County Register, Channel 2/9 news reporter Dave Lopez, Sheriff Candidate Craig Hunter, Sheriff Candidate Sandra Hutchens.
WHEN: Wednesday June 2nd, from 11:30 AM to 1:00 PM
WHERE: In front of the Santa Ana Police Department Headquarters, 60 Civic Center Drive West, Santa Ana , Ca.
WHAT TO BRING: American Flags, posters expressing your thoughts about the recent hatchet job against Bill Hunt in the MSM, Bill Hunt signs.
BACKGROUND: Inside operatives of both the Craig Hunter and Sandra Hutchens campaigns for Sheriff have appeared to join forces in an attempt to falsely discredit Bill Hunt.
Read the rest of "Sticks and Stones and a Protest Too"