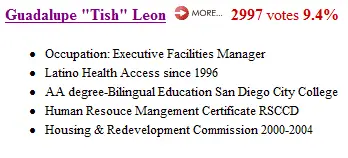 Santa Ana Parks and Recreation Commissioner Tish Leon didn't run for the DPOC Central Commitee this year
It is hard to believe, but no Latinos filed to run for the Democratic Party of Orange County's (DPOC) Central Committee, in the 69th Assembly District, which includes Santa Ana and Anaheim, according to the Orange County Voter Registrar's website.
None of the incumbents filed to run this year. Several Latino incumbents walked away from the Central Committee, including Zeke Hernandez, Tish Leon, and Lynette Verino. Other incumbents that did not pull papers included Stephen Bolinger, Eliah Gear, and Elaine Hoffman.
The only candidate who qualified to run this year was Art Hoffman. He came in last place in 2008, when he ran previously for the DPOC Central Committee.
Click here to read the rest of this article, and to read about the Republican candidates for the Central Committee, in the 69th Assembly District.