The Liberal OC's Chris Prevatt says defense lawyers like Darren Aitken are scumbags!
I always thought that Democrats stood up for the little guy.  When it comes to the law, I generally consider that Democrats are on the side of the defendants – the accused if you will.
Well, apparently I was wrong.  The Liberal OC's Chris Prevatt wrote a post today ripping Fullerton Councilman Shawn Nelson for being a defense attorney.  That is really unfair to Nelson, who is running for the 4th Supervisorial District, since his practice offers a broad range of legal services, including counsel regarding business litigation and personal injury.
The fact is, our legal system needs defense attorneys.  Ripping them is really an insult to our entire system of law, which holds that one is innocent until proven guilty. 
And Prevatt overlooks the fact that there are hundreds if not thousands of lawyers, just like Nelson, in the O.C. who are in fact Democrats.  In fact a huge donor to the Democratic Party of Orange County, Wylie Aitken, is one of them.  You may recall that Darren Aitken, Wylie's son, defended Prevatt's buddy, Matt "Jerbal" Cunningham, when Cunningham screwed up and outed the names of victims of molestation by Catholic priests, a couple years ago.  That's right.  Prevatt's buddy Cunningham needed a defense lawyer!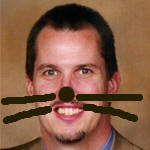 Matt "Jerbal" Cunningham needed a defense lawyer, after he posted the names of victims of molestation
In that case, Cunningham was defending a Catholic Monsignore named John Urell, who covered up for a lot of molesters.  Cunningham started a website/blog, called the "Friends of Urell."  On that site Cunningham posted legal documents that were not redacted.  That resulted in the posting of the names of the victims of molestation.
Cunningham never should have had access to the legal documents in question.  He eventually took down the Urell Amigos website and hired Aitken.
So if we are to believe Prevatt, Aitken is a scumbag for defending Cunningham?  
Cunningham had a right to mount a legal defense.  Aitken did his job and defended Cunningham.  Does that make Aitken a monster?  No, although Cunningham's actions certainly were monstrous. 
Nelson makes a good living as a lawyer.  As an ethical professional he does not assume that his clients are guilty.  He takes their cases and defends them, just as Aitken defended Cunningham, who actually WAS guilty.
Chris Prevatt
It would be one thing for Prevatt to attack Nelson on the issues, but that isn't what he is doing.  Prevatt, who didn't go to college, is attacking a college-educated professional, for doing his job.  That just isn't fair. 
Nelson by the way runs his own business.  Prevatt?  He works for the County of Orange.  That's right.  We the taxpayers pay him.  Lord knows what the heck we are getting for our money!