These are the FIVE state legislators who have been most helpful so far in stopping the Tainted Sale of our Fairgrounds.  You will notice they are a bipartisan bunch;  you'll also notice they are all in the lower house – the Assembly.  The Senators are proving tougher nuts to crack, and we really need to keep the heat on Senators Harman and Correa especially.  It makes you wonder, if upper houses in general are less responsive to their constituents and more susceptible to the blandishments of lobbyists and the well-connected;  we see that all the time in Washington as well.  But I digress!  The purpose of this post is to celebrate Derailment's bold heroes:
Diane Harkey (R-Dana Point) – goes first because she is our latest hero!  Like almost all Orange County lawmakers she voted in July to sell the Fairgrounds but has now been convinced of her mistake.  Ms. Harkey, who is an enthusiastic horseback rider, has now written a strongly-worded letter to the Governor opposing the sale (which I will print here once I receive official permission) and is expected to become a co-sponsor of AB 1590 when the legislature reconvenes Monday!  (Thank her at 949-347-7301 on Monday – if you can do it without neglecting to bug the holdouts.)
Jim Silva
(R-Huntington Beach) – my Assemblyman and friend Jim has the honor of being the only sitting OC lawmaker to actually vote against selling the Fairgrounds.  He was right from the beginning – our "Cassandra" if you will – and he's doing his best to round up Republican support for AB 1590 as we speak.  When I interviewed him here on why he voted against AB 22 in July, his answers were so simple, straightforward and sensible, that you just ha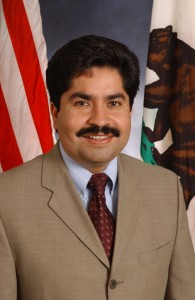 d to wonder, "What was everyone else thinking?"  But we are forgiving here, to folks who admit their mistakes and take measures to correct them. (714-843-4966)
Jose Solorio (D-Santa Ana) Don't forget, it also takes courage to admit your mistakes, and also to be the first in a big group to do that.  Assembly whip Fiona Ma told us that Assembly Democrats would have no problem rescinding the sale if only an Orange County Democrat would show leadership on the issue.   And pretty much our only Orange County Democrat is Mr. Solorio, so we focused on him for weeks;  and sure enough he listened to reason, admitted his mistake, and introduced AB 1590 to Derail the Sale, which will be voted on in early January.  ¡Qué Viva Solorio! (714-939-8469)
Van Tran (R-Fountain Valley) Tran, the Fountain Valley assemblyman who is apparently very close to Solorio, represents the district where the Fairgrounds are actually located.  We are counting him as a hero because he is co-sponsoring Jose's bill and so will almost certainly be voting yes on it, even though some of his staff are still talking nonsense about "keeping the Fair a Fair when it's sold" and trying to make sure the local governments can buy it.  Maybe his folks just haven't quite got the message yet, but there is Van Tran's name as a co-sponsor to derail the sale.  He and Jose did call the historic town hall meeting in early November, so they both got to see how strongly the local citizens feel about the issue.  AND he really has to think twice about being responsible for losing the Fairgrounds, when he hopes to beat Loretta Sanchez next year!  It's still good to call him at (714) 668-2100 on Monday, to make sure he doesn't get confus
ed by bad, bad people whispering sneaky things in his ear.
Hector De La Torre (D-South Gate) Assemblyman De La Torre, a strong progressive from LA County who is running for Insurance Commissioner next year, has taken a great interest in helping Orange County derail the sale of its Fairgrounds, and we can only express our gratitude.  He has taken it on himself to get a letter to the Governor next week opposing the sale, which he believes he can get signed by all Assembly and Senate Democrats, and as many Republicans as possible – we've got three of the latter on board already, and are hoping for more.  (We'll be calling Jeff Miller and Curt Hagman next week.)  He writes me that "Jose's bill will pick up from there" [the letter and its signatories.]
Let's hear it for the Heroes of the Derailment!