Mike Richman was a GOP blogger, and a partisan hack, now he is busted!
Surprise, surprise.  More Republican corruption.  "Mike Richman, a top aide to Board of Equalization member Michelle Steel and the target of a San Bernardino County lawsuit alleging that he and others engaged in political work on government time, has resigned," according to the Riverside Press Enterprise.
Steel is married to Shawn Steel, the former Chairman of the California Republican Party.  He has been trying to turn her into the next big thing for years.  It looks like the wheels are falling off their little red wagon now!
"Richman, a political consultant, oversaw Steel's Republican primary campaign in 2006. He became Steel's chief of staff Nov. 1 and earned $122,424 a year."
Why would some political hack be qualified to serve as a Chief of Staff for a member of the Board of Equalization?
I found this information about Richman over at the awful Republican blog, the Flash Report, where, of course, Richman was a blogger: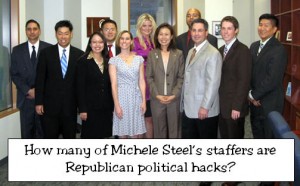 San Bernardino Republican Party members must be ecstatic over the news that JohnsonClark Associates Political Director Mike Richman will be joining the county's central committee as its new Executive Director. Richman will serve part time in this position, while also beginning his own consulting firm serving political and public affairs clients.
Many of you know Mike Richman from the outstanding work he did in 2006, when he, in his role with JohnsonClark, managed Michelle Steel's successful Board of Equalization primary campaign and then served as Deputy Campaign Manager for Steve Poizner's bid for State Insurance Commissioner, which Poizner ultimately won. He also was heavily involved in the election of Anthony Adams, who is the Assemblyman from the High Desert, and one of this website's State Capitol bloggers.
The San Bernardino County Republican Party Executive Director position has traditionally served as a launching pad for some of today's most influential Republican policymakers, such as retired State Senate Republican leader Jim Brulte. As the Party's new Executive Director, Richman will replace San Bernardino County FlashReport correspondent Adam Aleman, who is leaving the post after guiding the Party's central committee through three statewide election cycles. Aleman is serving as a lead assistant to County Assessor Bill Postmus. (Fear not, Adam will continue to blog for us!)
Too funny!  Richman replaced Adam Aleman as Executive Director of the San Bernardino GOP, and sure enough Aleman got busted last year!  And Aleman's boss, Bill Postmus, ended up resigning as San Bernardino Assessor after we all found out about his drug use and other peccadilloes.
Aleman in fact got busted for blogging about Postmus while on the clock at the Assessor's office, "Adam Aleman, former assistant assessor under Postmus, was San Bernardino County editor for RedCounty.com. The Hueston Report, a county ordered investigation of Postmus and his associates released Tuesday, accuses Aleman of using county money to purchase technology for the Web site and paying county employees to write for the site and spend time "e-mail blasting," according to the San Bernardino Sun.
You have to love those red-faced clowns in San Bernardino.  What a bunch of corrupt hacks!  So nice to see them all getting dragged off in chains…