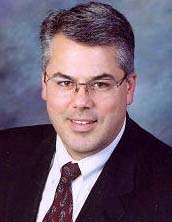 We know where Shawn Nelson stands on redevelopment – but what about Tom Daly?
The Republicans who are backing Democrat Tom Daly for Supervisor Chris Norby's seat must be wondering if their guy is on the right side of the redevelopment argument.  We know where Daly's conservative opponent, Fullerton Councilman Shawn Nelson stands!
"Fullerton Councilman Shawn Nelson, who is running for supervisor to replace termed-out Chris Norby, has taken a stand against an egregious expansion of redevelopment in Fullerton," according to an Orange Punch blog post by Steven Greenhut.
But what about Daly?  Will he support big government expansion; or will he undercut potential support by Fullerton city council for his own Supervisorial bid?
One of Daly's biggest shills, Matt "Jerbal" Cunningham, wrote a post this week praising Norby for his stance on this issue.  Well Matt, Nelson agrees with Norby.  What about your boy Daly?
Click here to read what Norby had to say about this, over at the Friends for Fullerton's Future blog.