The Santa Ana City Council is going to be very busy at Monday's Council meeting.  They are raising fees, canceling City Commissions, spending over $1 million on another giveaway to the Bowers Museum – and they are also going to pander to the Trannies as they move to recognize the flag of a country that no longer exists.  Click here to read the entire Council agenda.
There is only one flag of Vietnam:
According to the Vietnamese Embassy to the United States, "On September 2, 1945, President Ho Chi Minh read the Declaration of Independence at Ba Dinh Square among millions of people with red flags fluttering. On September 5, 1945, President Ho Chi Minh signed a Decree considering the red flag with a five-pointed golden star the National Flag. On March 2, 1946, the first National Assembly of the Democratic Republic of Vietnam affirmed that the five-pointed star red flag is our National Flag."
But don't try to convince the Santa Ana City Council of that.  You can read their resolution to recognize the flag of the failed Republic of Vietnam by clicking on the graphic below: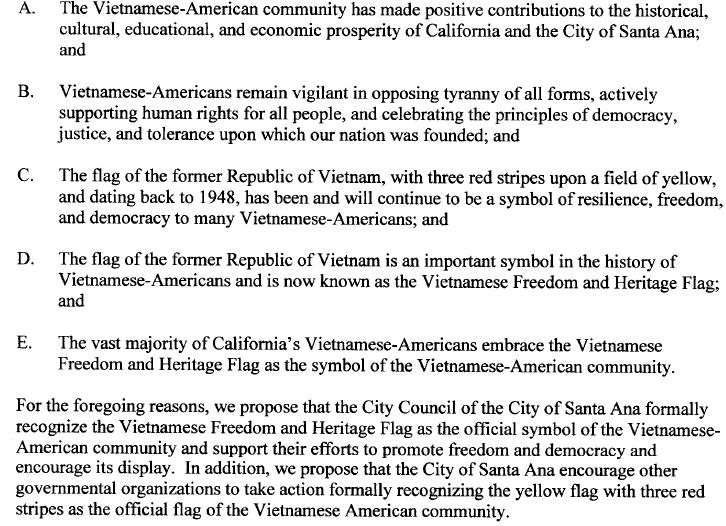 This resolution is nothing more than pandering to Republican Assemblyman Van Tran and his Trannies.  I would expect nothing less from Council Members Vince Sarmiento and Claudia Alvarez.  I am not sure why Councilman Sal Tinajero went along with this, but then he is up for reelection in two years, and there are over 2,000 Vietnamese voters on Santa Ana's west side.
The City of Santa Ana is over $40 million in debt and our Mayor Pro Tem, Claudia Alvarez, and her Council cronies have nothing better to do than pander to the Trannies?  Incredible.
My guess is that this is payback for the help Tran and the Trannies gave to Alvarez when they all voted for her Measure D, which allowed her to run for an unprecedented third term on the City Council.  According to eyewitnesses, many Vietnamese voters came to the polls to vote with scraps of paper telling them to vote for Measure D – and GOP presidential candidate John McCain.  The latter went on to win the GOP primary, but he lost to President Barack Obama.  I am pretty sure Obama won't be recognizing the flag of the fallen Republic of Vietnam anytime soon.
Don't be surprised to see Alvarez and Sarmiento marching in this year's Tet Parade, which is being run by Tran's allies on the Westminster City Council.  They were in last year's parade too.
What an unholy alliance this is between the Republican Trannies and the supposedly Democratic Alvarez, Sarmiento and Tinajero.