.
.
.
This is the second installment in my review of OC's Covid-19 curves — the first one was here — and includes discussion of concepts like what we mean by "flattening the curve" and what the curve even is.  (It's a normal distribution — and if that doesn't make sense to you, click that link soon!)  The underlying data can be found here.
This is probably the last one (at least for a while) in this much detail.  I'm trying to do these by hand-made creation of the graphs — a process complicated by the Health Department keeps refining and revising its previous reports, which is wholly appropriate … but imposes burdens on those who would create graphs.
(I'm hoping I can hand this to someone who has graph-producing statistical software.  My last such program, when I was still doing data analysis as part of my living, came on 3.5 floppy disks.)  Let me know if there are any takers!)
Anyway, below is the new version of the graph.  As before, the light gray circles are each day's reports.  The dark graph bars are the rolling 5-day averages, meaning that the score for each day is averaged with the two days before and after it.  The pink line, new this time, is a curve made up of 7-day averages — in other words, the averages for a week centered on each day.  That's as much smoothing as I think I can justify — and, as you'll see, even that isn't enough!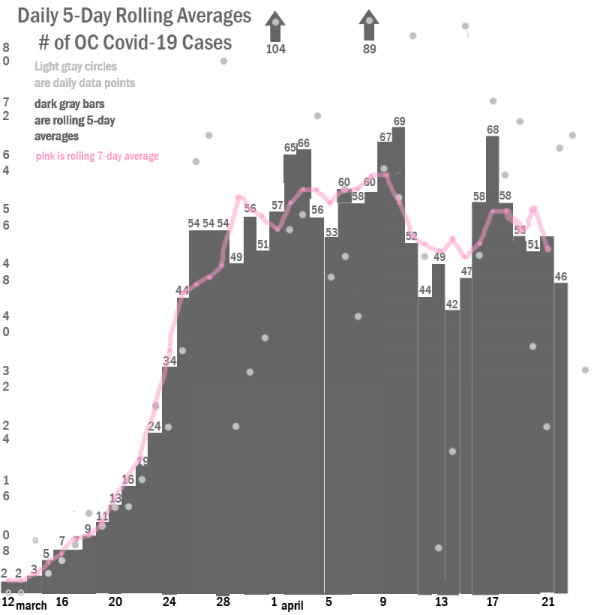 This is a lot better than the spray of light graph dots you see for different days.  And for the first couple weeks, it has some coherence.  But after that, the data becomes extremely noisy.  One day records only 7 cases, coming not far between two other days in the 80s.  There are possible explanations for this — my sense is that most cases come out on Mondays and Wednesdays — and I should note right there that each day is actually reporting the total for the previous day — but without more understanding of what OC Public Health is doing I don't want to make assumptions that could guide even more aggressive, theory-driven, curve smoothing.  It seems vary likely, though, that some sources of the data are not reporting daily, but bundling a few or several days into one report.  Smoothing can help solve that problem, but in this case it's not doing is so well.
All that said, we can take some lessons from these curves — and to the extent that the data is trustworthy it should give us some community pride.  We've not only flattened the curve, but in a phrase I just started hearing within the past week or so, we have partially crushed the curve!
If you had shown me just the first two weeks of this curve, I would have bet that it would go about 1.5 times as high, before coming down in a stretched-out mirror image to the right.  In the last week of March, it's like someone hit that grown curve in the head with a board.
Starting after those three 54 data points in a row, what looked like a normal curve becomes almost random.  The average of the rest of the scores is 55.1.  Nor is there a clear trend (except for increasing noisiness: The first two weeks after those 54 triplets has an average score of 55.8; the next two weeks has an average of 54.0.  So we can't say with any confidence that it's even going down.
But there is a word for that sort of distribution, and it's one we would like to see.  It's "flat" — as in "flattening the curve."  It's sudden and profound, compared to where the curve looked like it was going  — which is why is also looks a but like "crushing."  I think that the most reasonable way to read it is that we adopted pretty strong social distancing — and it's doing exactly what it's supposed to do: pushing cases into a fatter, longer-lasting, non-resource depleting right tail.  (Unless the slide in the last six days holds up over time, we can't even yet see that right tail in this graph.)
Of course, I'm overlooking one important thing in interpreting this graph: testing.  We're still not doing enough testing, which would allow us to estimate cases that didn't show symptoms — or at least not enough of them to send someone to the hospital — but that still would have likely been contagious.
Once we start with broader testing, we'll show a bulge on the right side of the chart that will be an artifact of the fact that we haven't been testing nearly enough during the first month and a half.  That will panic us, but it probably shouldn't.  It just means that we're getting a better look at the truth.
Sadly, the prospect of OC being seen as a viral hotbed may be worrisome enough that our especially powerful powers that be will discourage testing even when tests become available.  That, in my opinion, would be criminal.  Pervasive testing and contact tracing are two of the things we need both to flatten the curve and to allow us to reopen safely — and we'd best get on our way to that.
Two other concerns complicate a graph like this.  The first is people coming into the county from outside, like those delightful crackpots sharing droplets last week in Huntington Beach.  The second — even more ominous — is that the WHO is now casting doubt on the idea that getting Covid-19 necessarily (or usually, etc.) confers immunity.  So much for "immunity passports" and the notion that the young and healthy are safe.
The good news is that greater experience with Covid-19 means that we are developing better "best practices" for treatment, so that the likelihood of dying from the disease may decline even prior to a successful vaccine.  (The recognition that "proning" — sleeping on one's stomach, instead of "supine" on one's back — seems to help people survive is one such exciting development; the notion of checking oneself with an oximeter to see whether lung function has been compromised even in the absence of symptoms is another.)  So staying healthy longer may mean surviving better if and when you do succumb.
You can find more good information from the State Department of Public Health, here. and here.
This is your Weekend Open Thread.  Talk about that, or anything else you'd like, within reasonable bounds of rationality.  And also do not, no matter what you hear, snort powdered bleach.  (It doesn't actually contain chlorine, but it's nothing that you should want in your lungs.)