.

Now that mass murderer Osama Bin Laden is finally safely down in Davey Jones' Locker, it's high time to bring a quick end to the war in Afghanistan – already the longest war in US history, which has been grinding along pointlessly for a while now.
And chances are you agree with me, as about 70% of Americans do, and even a growing bipartisan coalition of usually war-hungry politicians.
For example just this Thursday, the McGovern-Jones Amendment, calling for an accelerated withdrawal of military forces there by requiring a fixed timetable to turn military operations over to the Kabul government, came very near passing.  Authored by great Progressive Democrat Jim McGovern and Tarheel Republican Walter "Freedom Fries" Jones, it was sponsored by libertarian hero Ron Paul and our own Loretta Sanchez among others;  26 Republicans and all but 8 Democrats voted yes on it. [Among the OC's generally "chickenhawk" Republican reps, kudos to Royce, Campbell and Rohrabacher for voting aye;  boos to Ken Calvert and Gary Miller for remaining chickenhawks as usual.]
Meanwhile, word is that we are now secretly negotiating peace with Mullah Omar himself.  That will be great news when the deaths, injuries, and astronomical financial costs of this war come to an end.
But now, Memorial Day, is the time to pay our respects to the brave young men and women who made the ultimate sacrifice doing what their nation asked them to do.  And so, as we do on the Orange Juice Blog each year, we will tip our hats to each of the OC soldiers and marines who lost their lives in war in the past year…
Since last Memorial Day, Orange County has lost six young men in Afghanistan and Iraq:
.
[hit play for soundtrack]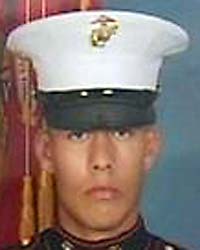 Last June 22, Yorba Linda lost 22-year-old Claudio Patino IV in Helmland Province.  It was the young man's third deployment, having previously served in Iraq.  Claudio had graduated from El Dorado High in Placentia.
Last July 6, Anaheim lost 30-year-old Marc Arizmendez from of wounds sustained when insurgents attacked his vehicle with an improvised explosive device in Qalat.  On a Facebook memorial page created by his older brother, Arizmendez is remembered by friends as a great husband, father and soldier who was always willing to help a friend.  His mother remembers:  "As a boy, he was a little fighter, a rabble rouser — and smart. He loved to take apart his toys, especially the trucks, and put them back together again."
Last July 24, Cypress lost 23-year-old Daniel Lim, also in Qalat, also from insurgents attacking his military vehicle with an improvised explosive device.  The last time he was home in Cypress, he told his parents "he should go back early because he wanted to take care of the soldiers in his unit. He wanted to teach them. He wanted them to grow as he had grown."
On January 15, Garden Grove lost 21-year-old Pacifica High grad Jose Torre in Baghdad, Iraq – from wounds suffered when insurgents attacked his unit with a rocket-propelled grenade.  His mom reminisced, "It was just amazing to see him transform into the young man he became. He didn't look like that little punky kid."
On March 3, Anaheim lost 22-year-old Jason Weaver in Kandahar province, Afghanistan, from wounds suffered when insurgents attacked his unit using an improvised explosive device.  Jason was the soldier in the lead when his squad went on foot patrols.  "He knew it was a dangerous job" to be the point man on foot patrol, his friend Spc. Brian Gabel said in an Army account. "But that's the kind of guy he was: the kind who wanted to lead the way for his team and be there to protect them if they were in danger."  Like Claudio above, Jason also graduated from El Dorado High School in Placentia.
And on the next day, March 4, Rancho Santa Margarita (and his fiancee) lost 20-year-old Jordan Stanton "while conducting combat operations in Helmand province."  Hey, maybe he can be the last "wonderful, kind, considerate person" Orange County loses in these Bush Wars.  Let's make that happen!
Previous articles in this series:
"Memorial Day 2010:  Orange County's Losses"
honoring Bryce Gautier, Donald Hogan, Jonathan Welch, Jesus Flores Jr, Justin Swanson, Rick Centanni, and Robert Cottle.)
"Hey, Wasn't There a War Going On Or Something?"
(late 2008, honoring Brandon Meyer, Armando de la Paz, Cody Legg, Mary Jaenichen, Cherie Morton, and Ivan Merlo)
and of course, 2008's ever-popular
"Happy Memorial Day OC!  Your Chickenhawk Congressman Loves the War and Hates the Troops"
(dishonoring Dana Rohrabacher, Gary Miller, Ed Royce and John Campbell.  I forgot Ken Calvert.)