If you're a cord-cutter like me, you're not going to be able to watch tonight's hearings on the national networks. But you can stream them — and here's one link, to Meidas Touch, that you can use. I may be liveblogging as well.
The discussion from Tony Michaels's experts here — including former Trump personal lawyer, Michael Cohen — have disagreed about things and been at a very sharp, informed, and understandable level. Those witnesses will be offering commentary after the hearings and possibly during breaks. Worth a look!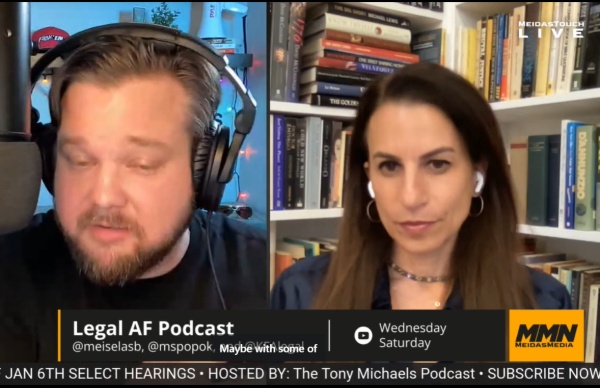 Commenter who covered Watergate notes that "Every successful coup is preceded by a failed one" and "this coup is still ongoing." In 2024, the coup plotters plan to learn from their mistakes, such as relying on Mike Pence.
Rep. Bennie Thompson of Mississippi, the Committee Chair, tells the story of how even Abraham Lincoln, faced with the likelihood that his opponent Gen. George McClellan would defeat him in 1864, and then allow the South to secede, signed a pledge that he would honor the result if he lost the election and required his Cabinet members to do the same.
Trump Attorney General Bill Barr taped testimony as to how he refused to honor then President Donald Trump's demands of him, to support the Executive Branches coup against the Legislative Branch.
Committee Vice-Chair Rep. Liz Cheney of Wyoming noted how Trump supported the mob's actions, rather than giving into demands to try to stop it. He said of the "Hang Mike Pence" chants, that maybe Pence deserved it. She explains what "seditious conspiracy" — of which members of the Oath Keepers and Proud Boys have pleaded guilty — means. She says that they knew that the election was valid but tried to spread the Big Lie to the public. The taped testimony from witness at the top level of the Trump Administration and those in charge of investigating election fraud is detailed and devastating. This was intended to rouse the public into action.
Those replacing Bill Barr also told Trump the same thing. He then tried to illegally appoint an Acting Attorney General that would say that the DOJ had identified significant concerns about fraud. Jeffrey Clark was inclined to do so until Richard Donohue and the entire leadership of the DOJ threatened to resigned. Clark refused to testify.
The fourth hearing will regard Trump's attempts to influence Mike Pence to get him to thwart the counting of Electoral Votes.
The fifth hearing will address pressuring state legislators to "find" enough votes for him to win.
Final two hearings will deal with the Capitol insurrection itself, and how Trump aided and abetted it. She notes that the investigation is ongoing. She notes that aa group of Trump's most fanatical supporters — Flynn, Giuliani and others — gathered together to see if the military could seize ballot boxes, rerun elections, etc. to preserve Trump's presidency.
Liz Cheney then introduces a
The taped testimony of Ivanka Trump includes what the commentators called "throwing her father under a huge bus" — for which I'm guessing she might have gotten advance permission from him.
Jared Kushner said that he was too busy working on processing as many pardons as possible — I am not making this up — to pay attention to what was going on at the Capitol, and that he had basically written it off as people "whining."
Karen Agnifalo's commentary on the legal aspects of the case being made here is outstanding. She notes that today's presentation does not prove anything about Trump, but that the material promised to come in future hearings might be able to do it. The exception is interference with the election count in Georgia, which based on the call to Georgia Secretary of State Brad Raffensberger she says seems like a slam dunk.
At 6:10, we've had a short break, and now we're going to hear from witnesses.
Officer Caroline Edwards, of Georgia, who was knocked unconscious while defending the line at the bike racks.
Nick Quested is a filmmaker, who was working on a documentary on divisions in the U.S., who ended up documenting the movements around the Capitol and the attacks on officers guarding its entrance.
Lost the feed for a moment; now they're talking about how the Proud Boys were bolstered by President Trump's positive recognition of them during a Presidential debate, and how they set up "Quick Reaction Forces" to intervene if Trump invoked the Insurrection Act — ironically, given that they were the insurrectionaries, and that that act did not empower them to do anything.
Bennie Thompson notes that Quested's testimony shows that the attack was not spontaneous, but the
Several rioters were interviewed at the end about why they showed up on that day. All of the ones shown, and I recognize that they could be a selective sample, said that they came due to the request of President Trump — that he had only asked them for their vote and for their attendance in DC that day, and they felt they owed it to him.
Back to commentary: "Texas Paul" Schroeder notes that the initial media coverage was not able to show the close up violence, even before they entered the building, as they stormed past and injured the officers with bear spray and direct contact. Officer Edwards was right near Officer Sicknick, who was killed by the same rioters she faced.
Next hearing is June 13, then 16, then one I missed, and the last on June 23. As Liz Cheney said, it's going to be a seven-legged stool to prove conspiracy — in my view the first leg seems very sturdy.