Vern has his quick lists; I have my deep dives. This will be a relatively shallow "deep dive" into our main endorsements for this primary. (We'll have separate pieces coming on the statewide races and the consternating OCDA's race.)
1. Yes, YOU
REALLY

SHOULD Vote for David Dodson for BOE!

Two registered Democrats, incumbent Mike Schaefer of San Diego County and BOE Southern California Office Supervisor David Dodson of OC, are facing off against five Republicans, Randy Economy of Riverside County and four relatively evenly matched ones from Orange County: Denis Bilodeau, Matt Harper, John Kelly, and Erik Peterson. So let's do some math: 25% > 10%.

None of the OC Republicans are likely to make the runoff because they will cannibalize one another's votes. The State Republican Party does not seem to have endorsed in this election, possibly because Mike Schaefer simply does not offend to them. The California Republican Assembly has endorsed Harper. Peterson and Bilodeau have spent the most money; among Republicans, Kelly has spent none, but will probably still get his share of votes because he made the 2018 runoff.

Apportioning out the NPPs, this is probably close to a 50-50 split between the major parties. Some Republican will get the most votes, but it may not be more than 15% and I'd say it's unlikely to be more than 20%. So all Dodson — the only candidate with actual experience in BOE operations — has to do is to get a sizeable minority of the vote to make the runoff. If he does make the runoff, Schaefer may still beat him because of Dodson's very limited budget — but may not because Schaefer trails behind him evidence of a passel of scandals — disbarment, misrepresentations, harmful business practices as a landlord, maltreatment of intimate partners, and so on — which I have not published due to the difficulties with corroboration. But they have generated enough smoke over different years and different parts of the country to leave me inclined to think that there is fire behind them. Rotten personal and business behavior may not matter in an election this far down the ballot — but it might. Republicans have not yet highlighted these scandals much — doing so at this point would basically help Dodson, after all — but it is highly likely that they do have the same evidence I've seen. (Economy noted some of them in social media.) With a little effort, that could win them the seat.

There is an obvious strategy for Democrats here: aim for a 60-40 split between Schaefer and Dodson and freeze Republicans out of the race. Instead, they are putting all of their money on Schaefer, due to the principle that an incumbent Democrat must no lose, pretty much no matter what. It falls to people who actually want good governance — and such people are in both major parties, minor parties, and no party — to tell the Democratic leadership to cram their self-defeating incumbent protection racket and vote for the best candidate: Dodson.

Schaefer has somewhat puckishly shown up here a couple of times to thank me for publishing a story saying that he likely did not personally share a racist meme on his social media account. (I had reached the tentative impression that it might have been posted (possibly as a joke, possibly as a provocation) by his second-from-top aide, William Rodriguez-Kennedy, who as Chair of the San Diego Democratic Party helped Schaefer hold back a movement for "No Endorsement" — shortly after which he was impelled to resign that position due to a scandal. I has promised that my conversation with Schaefer's top aide, Gary Gardner, would be off the record (and I'm honoring that), but I will say that Rodriguez-Kennedy confirmed that the office was trying to investigate the matter to determine who had posted the meme. Let's just say that I have no on-the-record reason to think that this investigation ever took place, and I'm no longer convinced that Schaefer had nothing to do with it. If they want to challenge me on that, my questions and their answers will be on the record this time.

So, yeah — vote for earnest, experienced, and squeaky clean David Dodson: the best candidate by far.
2. Good Legislators for Santanaheim? Ortega, Boomer, Have a Shot!
The institutional pressures that have kept Rep. Lou Correa and Asmb. Tom Daly are enormous. It's not just the Disney/Angels/SOAR Cabal, it's not just the Police Officer Associations, and it's not just the ravenously selfish Business Trades — it's the Democratic Party establishment that desperately tries to ward off and snuff out reformers because of its fealty to these interests, and other big donor interests, and fears that if they nominate anyone to the left of Gavin Newsom the entirely party will be successfully branded as Communists. (I don't even think that they actually believe that last one, but catering to supposed public prejudice is a good cover for the rest of these ties that serve their interests in personal advancement and fundraising contracts. Maybe that will change in the wake of the Anaheist and Melahat-related scandals, but they seem to think that they can lie, distort, and fog their way out of anything.
Democrats have the first credible candidate with some resources running against Correa in Mike Ortega. Tom Daly was, many observers think, shunted off prematurely by the Cabal (who didn't appreciate some of the his Anti-Cabal positions) in favor of his Building Trades-affiliated and more pliable aide Avelino Valencia, who is running for what is mostly Daly's old Assembly seat with some new borders. Republican businessman and blog gadfly Mike Tardif has a decent chance of making the runoff — and, oddly enough, possibly getting some support from the left for a two-year stint before he's voted out in 2024 — so Valencia and insurgent challenger Boomer Vicente are fighting for what may be the other remaining slot. Boomer won't get many Republican votes, but he should get everyone else's.
3. Super-Supervisors! Park, Sarmiento, and Foley!
In District 4, Republican Brea Councilmember Steve Vargas is such a trainwreck as you might recall from these three 2015 stories — about his embezzling from a charity, returning the money to the wrong people, and finally getting nailed in court — that I find it amazing that I'm wondering if I actually might have to vote for him in the fall if he ends up in a runoff against nominally Democratic incumbent Doug Chaffee. At least with Vargas, you know what you're getting, and you know he has to go. But Chaffee is not only essentially more than halfway a Republican in practice, but he's the nastiest sort of Joe Lieberman-like spiteful and vengeful Democrat. Yes, one good thing he's done is to hire Al Jabbar as an aide (hey, everyone needs a job) but his deliberately redistricting Katrina Foley to put the Costa Mesan into the conservative South County district — essentially because her level of decency and competence makes him look horrible by comparison, because that's exactly what he is! — was enough that even the DPOC kicked him to the curb this time around. I've been working on a story that where Chaffee appointing an At-Large County Commissioner who was the Chair of Greater Irvine Republicans (and who exhibits atrociously vile behavior on social media) for what seems like political pandering reasons. He needs to be shown out of the Board of Supervisors and then the place needs to be fumigated. I get mixed reports about Buena Park Mayor Sunny Park — maybe a bit imperious and hard to work with, though I don't know how much such criticisms has to do with her being viewed as impertinent due to being a woman of color who as an aggressive attorney challenges stereotypes, in which event good for her — but she's not Vargas, she's not Chaffee, and she definitely deserves your vote!
In District 2, an alliance of miscreant special interests is teaming up to trash Santa Ana Mayor Vicente Sarmiento in a race that will probably go to a runoff. Sarmiento is the only candidate with progressive bona fides in the race — and admittedly I didn't always think so and have admitted that I misjudged him — and he is up against a slate of doozies. Garden Grove Councilwoman Kim Berenice Nguyen is supposedly Avelino Valencia's close buddy and the choice of the Building Trades. Orange Councilmember Joe Dumitru is currently featured in our series on "Mary's Kitchen" as one of the villains. Juan Villegas, late of the Santa Ana City Council, is essentially the Sheriff Department's candidate. And Ceci Iglesias — who, yes, does deserve some credit for standing up to SAPOA, which lost her her Council seat — has been wrong about most everything else. One could imagine a Dem-on-Dem runoff here, but more Iglesias probably has the inside track among Republicans.
In District 5, well, it's pretty simple: Vote for Katrina Foley, who was impressing immensely not so long ago by being the best source of both news and proposed policy responses regarding the Huntington Beach Oil Spill. If you're a Republican, I'd suggest supporting Pat Bates over Diana Harkey and Kevin Muldoon, because Harkey is so deeply dishonest and a defeat for Muldoon would put John Moorlach in a badly needed good mood.
4. Jay Chen and Katie Porter
CA-45: Jay Chen is up there with Josh Newman and Sharon Quirk-Silva as one of the Democrats' brightest lights in North County politics (despite living a bit over the border, which is OK in a Congressional race.) He's not only a gifted thinker, speaker, naval intelligence officer, he's been a badly needed advocate for the rights and protections of Asian-Americans within our society, and would no doubt take a national lead on such issues in Congress. He would truly be an example of OC sending its best. And he's up against Michelle Steel, who not only doesn't show the intellectual heft to have accomplished much in Congress but proved worse then useless during the oil spill –perhaps because she was so compromised by her donors' interests.
CA-47: Katie Porter is not my favorite politician on a local level; she makes a lot of endorsements I don't like and seems too willing to give party leadership what they want in order to get what she wants (which is suspected to be an appointment to the U.S. Senate if Dianne Feinstein leaves or does not again run for office.) But on policy … look, she's the star of the county delegation, and that's understating things. I don't always agree with her withering whiteboard attacks — look, the problem with Postmaster General Louis DeJoy is not that he didn't know the price of a first-class stamp — but she's not only good on most issues (well, not always foreign policy) but she's great at engaging the public and scaring the hell out of malefactors. We should be proud of her and eager to support her. She'll make it through the primary against one of a quartet of dismaying Republicans, although I guess Brian Burley may be the least so.
5. The School Board Quartet!
Orange County Department of Education Chair Al Mijares has done a wonderful job dealing with a crackpot school board that is fundamentally hostile to public education except to the extent that its budget can be raided for gain by private interests. His opponent's "experience" is with a charter school system that has been accused of the usual charter school bad practices — skimming the best students and overcompensation the investors, for two. The Orange County Board of Education — sort of like the School Board for those not otherwise Boarded — has been wasting taxpayer money on baseless lawsuits and funneling money to a local conservative figure to draw up a White Paper on how schools should basically ignore the dangers of Covid and mask mandates and social distancing because — to read between the lines — children are invincible and teachers are expendable. Mijares needs to be retained and the OCBOE needs to be reclaimed. That means voting not only for Mijares, but for Martha Fluor in Area 2, Paulette Chaffee in Area 4 (despite her husband, discussed above), and Sherine Smith in Area 5.
This is why Vern wants you to start with Pages 3-4 of your ballot and then work your way back up! This election, we all need to go down-ballot! On education, our readers should take a strong stand for sanity, staff, and schoolchildren!
6.
ADDED

: My District Attorney Race Advice in One Chart!

I have grudgingly come to accept that no one is going to read an 10,000 word critical essay on the District Attorney's race the morning of Election Day. I have problems with both Spitzer and Hardin; I don't want either one to win in the primary. We need more time to grill both of them. The graphic's caption tells you how you ought to vote. More on the topic will be forthcoming after the election, when there's a chance in hell that you'll read it.
Epilogue: On Top of Everything, Is Chaffee Lying About "Strong Support" from Quirk-Silva?
So I got this text: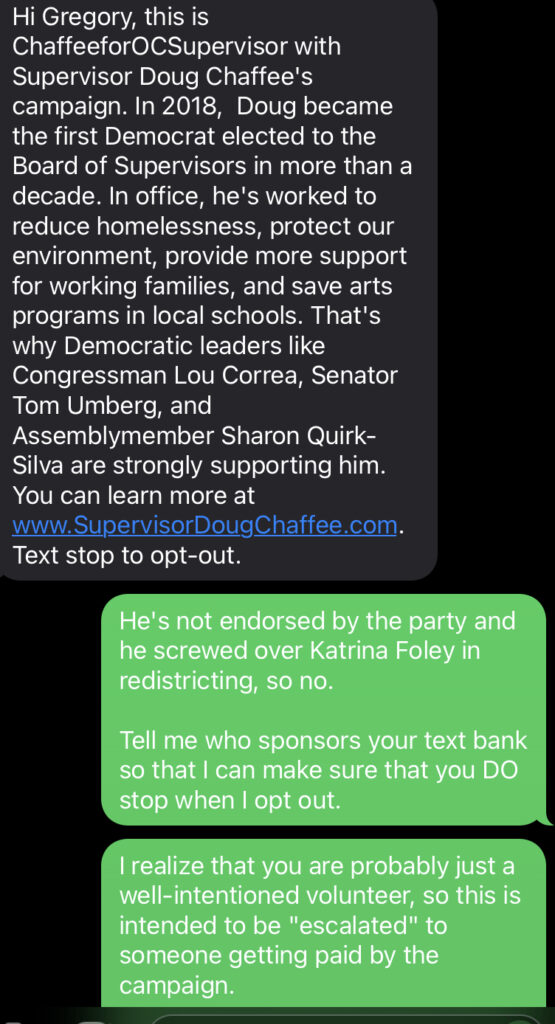 As Vern notes in comments, Sharon Quirk-Silva double-endorsed Chaffee and Sunny Park, rather than come out against her old Fullerton Council colleague. This is not "strongly supporting" Chaffee. And he did not bring a Veteran's cemetery to OC; that was the hard work of Quirk-Silva and whoever she could get to help her over many years!