.
.
.
Just now, Dr. Clayton Chau and a couple of supervisors (Wagner & Chaffee) gathered at St. Joseph Hospital with CE Dr. Jeremy Zoch to administer the newly approved Pfizer vaccine to five frontline healthcare workers.
Orange County got our first shipment of the vaccine – a little over 25,000 doses – just this morning!  As you may have heard, the Pfizer vax is administered to each person in two doses, three weeks apart.  (The first dose is 88% effective, the second makes it over 95% effective.)  Well, this first 25,000 is going to be the first dose for 25,000 OC healthcare workers, we'll be expecting a lot more shipments in coming weeks.  We expect 17k more sometime next week, which will go to 17k more healthcare workers for THEIR first dose.  And 25k to finish up those first people will come in 2 weeks.
This Saturday we expect the FDA to approve the Moderna vaccine, which is just as effective but easier to store (none of those science-fictiony subfreezing temperatures) – and we should get 32k of those next week as well if that happens.  But it'll still be a while before all our 200k healthcare workers (including 12k "first responders") are all vaccinated, and they can move on to the next "tier" of at-risk people.  Clayton estimates it'll be (at best) late February before robust specimens like you and I will be getting our shots, and we'll be getting to herd immunity.  He also foresees the need for a lot of education, for the vax-paranoid to comply.
These frontline healthcare workers have been lining up for a vaccine – these last nine months have been unbearably stressful for them.  There's been an unsustainable ratio of patients versus staff; they've been at their limit.  They wear their PPE but they are inside rooms with the infected constantly and it's a miracle that not more of them have caught the virus.  When they go home many of them dump their garments into a bucket so as not to endanger their families.  This vaccine will be a life changer for these heroes. 
So, this morning, nurse Christy administered the vaccine to FIVE of these workers chosen by lot.  The first was Michael Wellman, who's been a nurse in St. Joseph's Covid unit during this whole pandemic.  
The Shot Heard Round the County:
Next up was another nurse, Song Lee, who cared for general surgery patients during most of the year, but with the more recent second wave has "stepped up" to caring for Covid patients:
A respiratory therapist,  Brian Sullivan, came next.  Respiratory therapy, with all its "airway management" has been incredibly important in this pandemic.
And then, the County's first actual PHYSICIAN to receive the vaccine was Dr. Paul Shipowitz (sp?)
And finally, the emergency nurse Soledad Mathis:
Dr. Chau says there's still a lot we don't know about these vaccines – they DRASTICALLY reduce your risk of getting ill with Covid, but as far as we know SO FAR, they MAY still allow you to get infected asymptomatically and unknowingly spread the virus.  So those who've been vaccinated must still be safe and wear masks.  AND THAT GOES TRIPLE FOR YOU AND ME!
The two roughest months are ahead of us still! St Jude's in Fullerton is at 105% capacity, having to triage patients.  St Joseph's has had to work with the CHOC children's hospital next door and use some of their units.  Dr. Zoch (Chief Executive at St Joseph's) says they've learned a lot over the last 9 months but currently have 75% more patients than the last peak in July.  They are doing everything possible not to "vent" a patient unless completely necessary. 
These last two weeks Dr. Zoch has been a lot more nervous about coming home to his family.  One thing he was NOT nervous about was calling his mother to tell her he was NOT coming home for Christmas this year.  Chau and Zoch both urge us all to stay at home this holiday season so we can all enjoy the next one.  Or as I would put it, you don't want to hear people singing: "I'll be home for Christmas … just in my vented dreams!"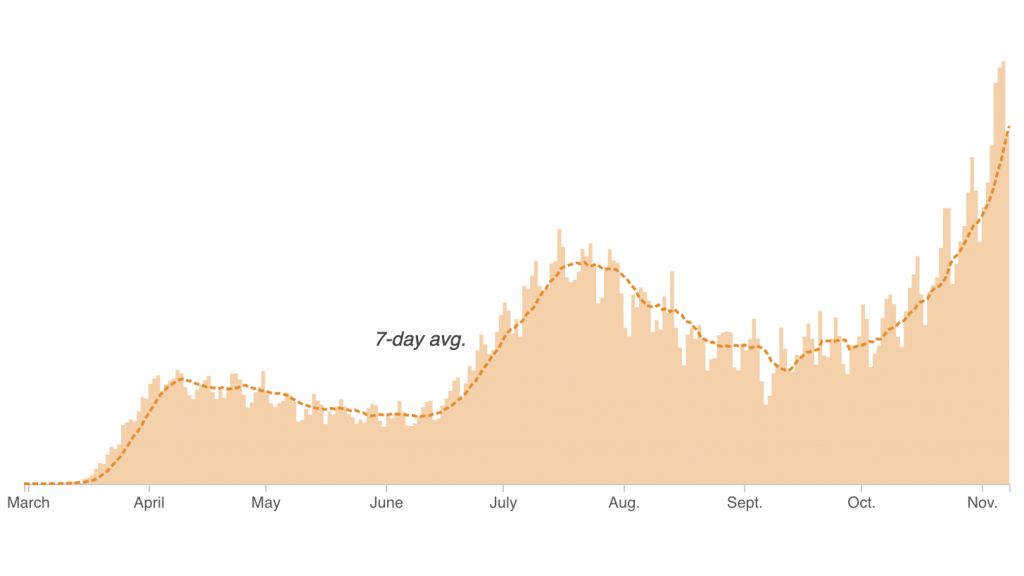 https://www.facebook.com/ocgov/videos/2786390708265967
https://www.facebook.com/ocgov/videos/2786390708265967