.
.
.
Our good friend, furloughed Disney employee and Unite-HERE firebrand Jorge Iniestra, has taken off to Georgia with his son Jovaun, to help win the most important battle right now for the soul and future of the United States of America – the Jan. 5 Senate Runoffs.  While they're out there, they've promised to send us regular "Georgia Dispatches."  Hey, maybe they'll see Ryan Cantor too!
My son Jovaun and I arrived in Georgia last night. A team of bad-asses from all over the country, including Hawai'i (love you Kainalu Lagua), is converging on this state in order to ensure that Mitch McConnell no longer holds the country hostage.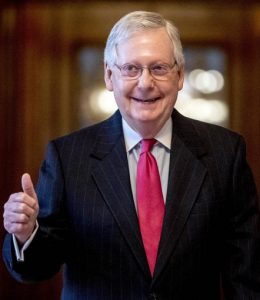 It's because of McConnell and the GOP-led Senate that millions of unemployed Americans stopped receiving the $600 a week in federal unemployment benefits, and are facing eviction from their homes DURING THE FUCKING HOLIDAYS. Meanwhile McConnell and the GOP-led Senate hand the rich billions in tax cuts during a pandemic where they've already become even richer, while the rest of the country suffers extreme hunger, poverty and ever rising COVID-19 related deaths.
It's because of McConnell and the Republican-led Senate that a Supreme Court justice was rammed through THREE WEEKS before this year's presidential election, even though McConnell blocked an Obama SCOTUS pick because there was "only" eight months left in Obama's presidency.
And the ONLY goddamn thing Mitch McConnell and a Senate led GOP will do, if they keep the 52 to 48 majority, is block ANY advancement under Joe Biden. Only to then turn around and blame Biden and the Democratic led House for not doing shit. It's what Mitch did when Obama was President. And he'll do it again.
It's time to elect Raphael Warnock & Jon Ossoff as Georgia's US Senators. The entire country will be greatly affected by Georgia's January 5 runoff election results. UNITE HERE and its members, led by housekeepers, dishwashers, bartenders, cooks and bellmen delivered in Arizona in November. We sure as fucking hell can deliver in Georgia.
¡SI SE PUEDE!