.
.
.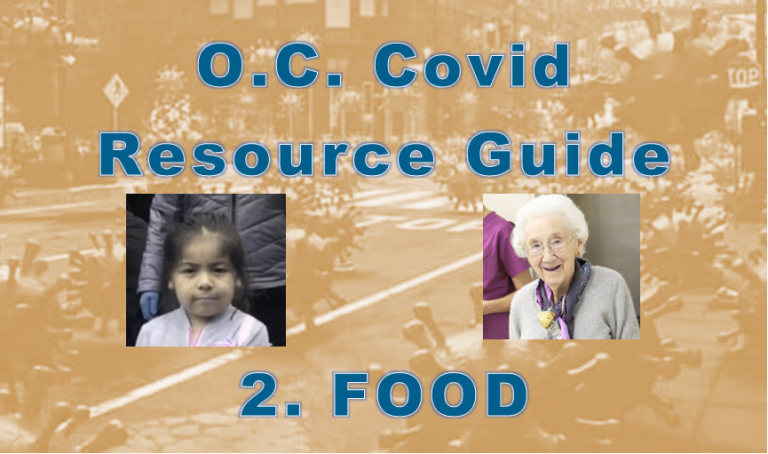 Just like with our guide on RENT, please let us know if we should add or change anything.
NEW in July:
Mariners Church Food Pantry, 5001 Newport Coast Drive, Irvine, pre-bagged food items M-F 9-1; 769-8450
THREE big things every Saturday:
Every Saturday, The Power of One Foundation is giving out food every Saturday morning at the OC Fairgrounds from 8am to 12! (get in line at 7am)
2. Every Saturday 8-10 AM The Power of One Foundation is ALSO giving out food at Santa Ana's Mainplace Mall!
3. And every Saturday at Anaheim's Honda Center, 9-2, bags of groceries will be given away by Second Harvest (if you can drive there)
 HERE is a county-wide guide for free "grab-and-go" school lunches.
Now, first Anaheim and Santa Ana (all phone #s 714 unless otherwise) then other North & West OC cities in alphabetical order (714); and then South County (starting with Newport & Irvine, and all #s 949 unless otherwise)
1. If you need food in ANAHEIM
"Grab-and-go" breakfast/lunch & dinners for school-age children, delivered by the Anaheim YMCA:
Now that Anaheim kids who qualify for free school lunches have no school, breakfast/lunches (11-12) and Suppers (4:30 – 5:30) are being provided M-F, by the Anaheim YMCA, at too many schools to list here, so click here.  This should last as long as the school year was supposed to last, and possibly into the summer.
ALSO, for the benefit of Anaheim schoolkids whose parents don't have cars or otherwise can't get far, the YMCA is driving lunch buses to six neighborhoods every weekday around noon – Anna Drive, Canfield/Benmore, Vine Street, Brownwood, and Balsam (near State College).  Just look for the big blue ART bus around lunchtime on those short streets!  (The resort district decided they wanted to look involved.)
FOOD BANKS etc. (summer's newly added or changed ones in bold)
Just added: Christian Services in West Anaheim, Wed. 6:30 till food runs out, Sun. noon till food runs out;  641 S. Western Ave, "out front."  (955-9525)

St Vincent at St Anthony Claret, Wed. 11:30 – 2 DRIVE-THRU food boxes, 1450 E. La Palma; 563-1652

Vineyard Christian Fellowship, WED & THU 9-11, 5340 E. La Palma

Brookhurst Community Center, 2271 Crescent Ave, Sat 1-3pm

Native American United Meth. Church, 800 South Lemon Street, 1:00 pm First and third Wednesday of each month; show up 11:30 am (535-2429)

Saddleback Church, 2095 E. Katella, Fridays 11-1, Third Wednesdays 9-11, & Fourth Saturdays 9-11; 949-609-8006

Emmanuel Spanish 7th-Day Adventist, 1520 South Lewis Street, Saturday Food Pantry 2-4; 909-714-3352

Anaheim United Methodist Church, 1000 South State College Boulevard, Thursdays 11-1; 776-5710

San Antonio Family Assistance, 5800 East Santa Ana Canyon Road, food pantry Thursdays 12-3; 974-9728

Salvation Army Red Shield, 1515 West North Street, canned foods, produce and frozen goods, MTh 2-4:30, W/F10:30am-12:30; 491-1450

The Rock, 101 East Orangethorpe, drive-thru food pantry Saturdays 7-9am, 331-6311

Church of Christ Food Pantry, 641 South Western Avenue, Sundays 12:30

Anaheim West Comm. Center, 2271 W. Crescent Ave, Thursdays 11-1 frozen food; or if it's your first time you can come Monday 11-1!  776-7560
AND EVERY SATURDAY, 9am-2, you can drive thru the HONDA CENTER to get a couple bags of food from SECOND HARVEST!
2. If you need food in SANTA ANA
Santa Ana Senior Center, 424 w. 3rd St, 2nd & 3rd Thursdays 8am-10:30, seniors can pick up frozen to-go meals; 647-6540

Senior Grocery Program / Cambodian Family, 1626 E. 4th St, First & Third Fridays 11-12; 571-1966

El Sol Academy, 1002 North Broadway, One bag of groceries, 12:00 pm-2:00 pm Tuesday; 1:00 pm-3:00 pm Wednesday; 12:00 pm-2:00 pm Thursday; 1:00 pm-3:00 pm Friday; 12:00 pm-2:00 pm Saturday; Registration required, email Mercado@elsolacademy.org for detailed information; 543-0023

Micah's Way – food, clothing & blankets for adults; 1517 East 4th Street; M-f 8-4; 667-7110

Brown Bag Brigade delivers bags of food 714-696-8488

Madison Elementary c/o Coast Hill Church, 1124 E Hobart Street, 5th Sunday 8:30am-9:30; 949-362-0079

Lowell Elementary c/o Coast Hill Church, 700 S Flower Street, 4th Saturday 8:30-9:30am; 949-362-0079

Southwest Community Center, 1601 West Second Street, hot meals noon Monday- Saturday must be consumed off site; food pantry M & W 9:30-11am; 543-8933

Orangewood Resource Center, 1575 East Seventeenth Street, M-F varying hours call 619-0257

Companerismo Rey, 940 West Wilshire Avenue, food pantry Tuesdays 5-7pm; 850-1952

Calvary Chapel – La Semilla, 1916 South Cypress Avenue, food pantry Tuesdays 4-6:30; 949-933-6525

Southwest Senior Center, 2201 West McFadden Avenue, Seniors 60 years and older, 2nd & 3rd Thursdays 8-10:30am . Call 714-647-6540 day before for intake.

NEW – Sikh Center, every Saturday morning 9-11 at the Gurdwara, 2514 W. Warner
GRAB-AND-GO SERVICE from SAUSD: Meals offered to all children 1-18 years.
DISTRIBUTION DAYS:
Monday, 11-1: Meals will be provided for Monday and Tuesday.
Wednesday, 11-1: Meals will be provided for Wednesday and Thursday.
Friday, 11-1: Meals will be provided.
LOCATIONS:
Esqueda Elementary, 2240 S Main St, Santa Ana

Monte Vista Elementary, 2116 W Monta Vista Ave, Santa Ana

Martin Elementary, 939 W. Wilshire Ave. Santa Ana

Madison Elementary, 1124 Hobart St, Santa Ana

Romero Cruz Academy, 2701 W. Fifth St., Santa Ana

Carr Intermediate, 2120 W Edinger Ave, Santa Ana

Mendez Intermediate, 2000 N Bristol St, Santa Ana

Sierra Preparatory Academy, 2021 North Grand Avenue, Santa Ana

Villa Intermediate, 1441 E Chestnut Ave, Santa Ana

Willard Intermediate, 1342 N Ross St, Santa Ana

Saddleback High, 2802 S Flower St, Santa Ana

Santa Ana High, 520 W Walnut St, Santa Ana

Segerstrom High, 2301 W MacArthur Blvd, Santa Ana
3. North & West County
(in alphabetical order, all phone numbers 714 unless specified)
Again, HERE's a county-wide guide for free "grab-and-go" school lunches.
Brea
Christ Lutheran Food Pantry, 8082 Commonwealth, dates & times vary, call 529-2984

St Angela Food Pantry, 585 South Walnut Avenue, MWF 9-1 for Brea residents & Fullertonians from Imp. Hwy; 529-1821
Buena Park
Guidestone Church Food Pantry, 5600 Crescent Ave, TWTh 8pm-8:30pm, Sunday 11:15-11:45; 521-5882

Buena Park Senior Center, 8150 Knott Avenue, 1st & 3rd Thursdays, 10:15am; 236-3870

Buena Park Church of Christ, 7201 Walnut Avenue, Food Pantry 3rd Sunday 9-12; 523-1700

Jain Center Drive-thru Food Pantry, 8082 Commonwealth, Sundays 2-3:30; 213-448-7722

St Pius Food Pantry, 7691 Orangethorpe, Hours vary, call 814-1614
Costa Mesa
St Joachim Food Pantry, 1964 Orange Avenue, Saturdays sign-in by 8:30 am; 949-574-7400 x 397

Share Our Selves Food Pantry, 1550 Superior Avenue, M-F 949-270-2100

Costa Mesa Senior Center, 695 West 19th Street, every Friday line up at 8:30am, 714-327-7550

and every Saturday…
Cypress
Cypress Senior Center, 9031 Grindlay Street, 2nd Wednesdays 9-11am; 229-2005

St Iraneus, 5201 Evergreen, 1st Sat 8:30-10 for anybody; 3rd Sat 8:30-10 for residents in parish boundaries, M-F 9-11 emergency; 826-0760
Fullerton (newly added in bold)
NEW – St Philip Benizi, 235 S. Pine, Saturdays 10-1

601 E Valencia, Thursday 3-4 (Anaheim's Vineyard Church)

M-F 11-1 for all Fullertonians under 18 – At all elementary and K-8 school sites; junior high students can go to local elementary; child must be present; you'll get lunch for that day & breakfast for following day, click here

Pathways of Hope, 611 South Ford Avenue, M-F 1-2:30pm; 680-3691 x220

Fullerton Community Center Senior Grocery Program, 340 W. Commonwealth, 1st & 3rd Thursdays, 10:45-11:45; 738-6575

Heart of Downtown Food Bank, 223 East Wilshire Avenue, every other Sunday 1-2pm (April 19, May 3 & 17, etc); 526-2265

North OC Regional Health Foundation Food Distribution, 901 West Orangethorpe, 3rd Saturdays 1-3pm; 441-0411

New Wine Church Daily Bread, 1425 South Brookhurst, bread cart every day 6am, 526-0665

7th Day Adventist Food Pantry, 2355 West Valencia Drive, Tuesdays 9:30-1; 525-4561

Faith Deliverance Food Pantry, 3800 West Commonwealth, Fri 2pm – bring bags, mask, gloves; 504-4503

EVFree Church, 2801 N. Brea Blvd, upstairs bldg A church office, Mon- Thur. 9-12 & 1-4; 529-5544

St. Philip Benizi SVdP Food Pantry, 235 S. Pine Dr,  Tuesdays 1-3 PM and Thursdays 9-11 AM; 871-3610


St Juliana's SVdP Food Pantry, 1316 N Acacia Ave, Saturdays 9:00-11:30 AM; 879-1965 AM
Garden Grove
Christ Cathedral, 13280 Chapman Avenue, food pantry Thursdays 10-2, also July 11 & first Sat. of each month 10-12; 282-3097

Village Bible Church, 12671 Buaro Street, drive-thru 2nd Saturday 7-8am; 537-0669

Helping Others Prepare For Eternity, 11022 Acacia Parkway, 1st Fridays 10-12; or emergency apt. at 539-4357

St Olaf Lutheran, 12432 Ninth Street, W & Th 10-12 & 1-3; Seniors 2nd & 4th Mondays 9-10:30am; call first 534-6450

St Anselm, 13091 Galway, food pantry Saturdays 11-12; 537-0604

Our Redeemer Food Pantry, 12301 Magnolia Street, Saturdays 9-12; 539-9541
Huntington Beach
NEW – HB Senior Center, Tue & Thu 11-12, 18041 Goldenwest St at Talbert – say hi to my son Dorian!

Community United Methodist Food Pantry, 6652 Heil, Fridays 12-2; 842-4461

First United Meth. Church, 2721 Delaware Street, 4th Saturdays 12-3; 536-3537

First Christian Church, 1207 Main St, TWTh 10-1, Sat 9-12; 536-2589
La Habra
VCC The Gary Center, 201 South Harbor, Tuesdays 4-7pm; 562-264-6000

Rise Church at Gary Center, 341 Hillcrest Street, Thu 6-8pm; 562-697-4600

VCC The Gary Center, 341 South Hillcrest, Fri 8-11am, 562-266-8689

La Habra Community Resources, 350 South Hillcrest, M-F 12-2; 562-697-1199

La Habra Presbyterian – HIS Picnic, 951 N. Idaho, Sundays 1:15-3:30; 562-691-3296
Los Alamitos
We Care of Los Al, 3788 Cerritos Avenue, Tue, Thu, Fri 10-2 by appt only call 562-598-9790

Los Al Community Center, 10911 Oak Street, 1st & 3rd Tuesdays 11:30-12:30, call first 562-430-1073
Orange
Cool Water Ministries, 515 E. Almond, 12:00 pm-1:30 pm Fourth Saturday of the month 949-292-6425

First Presb Church, 191 N. Orange St, 10:00 am-12:00 pm; 1:00 pm – 3:00 pm Wednesday 538-2341

Main Place Christian Fellowship, 1909 East Quincy Avenue,Wednesdays at 9:00 am. 505-1734

Storehouse, North Orange Christian Church, 1001 E. Lincoln, M-F 1-5, 998-3181

Revive Covenant Church, 250 South Prospect Street, Tue & Thu 9-2, 633-6464

Iglesia Comunidad de Fe, 949-537-9399, delivers canned & fresh food

Cantlay/Catholic Charities, 2020 West Chestnut Avenue, groceries T-W-Th 7:30am-12; 347-9694

Ministerio Betesda, Sat 4-6pm, 1001 E Lincoln, Orange; 878-3335
Placentia
Placentia Senior Center – Senior Food Box, call 986-2332 for deliveries (to Placentia seniors)

Placentia Community Services Food Pantry, 900 South Melrose Street, emergency food: 8:30 am-8:00 pm Monday and Wednesday, 8:30 am-5:30 pm Tuesday, Thursday and Friday, (Closed daily from 12:00 noon-1:00 pm); Bread: 9:00 am-10:00 am Monday-Wednesday; Commodities: 9:00 am until commodities run out, Second Friday of the month; Food Pantry: 9:00 am First and Third Thursday of the month; Call 986-2333 to verify
Stanton
Livingstone Food Pantry, 12362 Beach Boulevard, Suite 10, Tues to Fri 9-6, Sat 9-3; 248-9500
Tustin
Tustin Area Senior Center, Senior Grocery Program, 200 South C Street, Fridays 9am; 573-3340

Tustin Family & Youth Center, Food Pantry, 14722 Newport Avenue, 2nd Monday & 3rd Thursday 1-2pm; 573-3340

St Paul's Episcopal Church, 1221 Wass Street, grocery bags Sundays 5:30-6; 544-3141

Salvation Army Tustin Ranch Corps, 10200 Pioneer, Wed 1-3pm, drive-thru canned foods, produce and frozen goods.
Westminster
OC Community Service Center, Senior Grocery Program, 2nd & 4th Thursday 11-12; 372-3454

Westminster Family Resources Food Pantry, 7200 Plaza Street, Sigler Park; MWF 9-6, TTh 11-8pm; 903-1331

The Men With Vision Food Pantry, 13552 Goldenwest, Farmer's Market 2nd & 4th Thursday 4-6pm; 476-0371

Hope Lutheran Food Pantry, 13841 Milton, Fridays 9-11; 895-3838
Yorba Linda
Yorba Linda Food For Families, 4848 Main Street, 2nd & 4th Tuesdays 6-8pm, 1st, 3rd & 5th Wednesdays 10-12; 777-2646

YL Community Center Drive-Thru Food Distribution, 4501 Casa Loma Avenue, Thursdays 8:30-9:30am; 961-7181

Rose Drive Friends Food Pantry, 4221 Rose Drive, Wednesdays 4-5, Sat. 9-10am; 528-6496
4. South County
(in alphabetical order, all phone numbers 949 unless specified)
Again, HERE's a county-wide guide for free "grab-and-go" school lunches.
N.I.N. = Nothing In Newport (Am I wrong?)
Aliso Viejo
Coast Hills Church Office, 5 Pursuit, 1st & 3rd Satuday 8-10am; 362-0079
Dana Point
Family Assistance at San Felipe, 26010 Domingo, Fri 11-2, 492-8477

Dana Point Senior Center closed – call 496-4252 for Meals on Wheels and Helping Hands Food Distribution.
Irvine
Saddleback Church, 18842 Teller Ave, Tuesdays 10-12 & 6pm-8; Third Saturday 9-10; 609-8210

South County Outreach, food dist. by apt. only – 380-8144 x 207; leave message with name, phone, # in household.

Families Forward, 8 Thomas, drive-thru only M-F 10-2 (unless food runs out); 552-2727

Mariners Church Food Pantry, 5001 Newport Coast Drive, pre-bagged food items M-F 9-1; 769-8450
Laguna Beach
Laguna Food Pantry, 20652 Laguna Canyon Road, M-F 8-10:30am; 497-7121
Laguna Hills
Crossline Food Pantry, 23331 Moulton Parkway, Thu Fri Sun 11-1; 916-0250
Laguna Niguel
Mercy Warehouse at Vineyard, 27632 El Lazo, Suite A, Mon 4-6, Wed & Fri 12-2; 425-3787

Family Assistance at Laguna Niguel Presbyterian, 30071 Ivy Glen, Thu 1-1; 492-8477
Laguna Woods
Saddleback Church, 24111 Moulton Parkway, Clubhouse 7, Fourth Wednesday, 10-11; 609-8574
Lake Forest
Saddleback Church, 1 Purpose Dr, Tuesdays 10-3, Wednesdays 1-6, Thursdays 10-3, Saturdays 9-11; 609-8111
Mission Viejo
Saddleback College Food Pantry, 28000 Marguerite Parkway parking lot 1 next to Culinary Arts, 1st & 3rd Wed 10-11am; 582-4606
Rancho Santa Margarita
San Francisco Solano Food Pantry, 22082 Antonio Parkway, Saturdays 9-11am; 589-7767

Shepherd of the Hills, RSM Cares, 30605 Avenue de Las Flores, 1st & 3rd Wed 2-4:30pm; 714-348-3292
San Clemente
Saddleback Church, 1311 Calle Batido, Third Wed. 6pm-7:30, Fourth Saturday 9-11; 609-8665

Family Assistance Ministries Main Office, 1030 Calle Negocio, M-F 10-3; 492-8477

St Michael's Society Food Pantry, 107 West Marquita, Mondays 3:30 pm; 366-9480
San Juan Capistrano
Saddleback Church, 29251 Camino Capistrano, Portables Units 11 & 12, Fourth Wednesdays, 9-11; 609-8700

Family Assistance at Community Presbyterian, 32202 Del Obispo, Wed 11-2; 492-8477