.
.
.
Around a year ago a friend was suddenly terminated as a maintenance worker in an apartment complex in Garden Grove. The underlying reason of his firing was his health condition – his hands were increasingly trembling, his speech was getting slurred. He appealed, stating that he could perform his job in spite of the physical changes he was experiencing.
The apartment management company denied his appeal and the possibility of accommodating him working in another position. He was given a grace period to move out of the reduced rent apartment he had in the complex, and a modest financial settlement.
I contacted this blog's in-house Worker's Comp attorney requesting his assistance but our friend Greg was already dealing with his own health issues, and unfortunately could not help.  [Ed. note: plus, I have never worked on Worker's Comp anyway, so it wouldn't have mattered!  – GAD]
My friend moved to Riverside as he could not afford to rent a place in Orange County. He sold and donated most of his small family's furniture, as they had to downsize. Their new place was a room in a house, sharing a bathroom and the kitchen. They enrolled in an affordable senior apartment building waiting list, which is two years.
He applied for unemployment benefits, as he insisted that he still could work, has participated in training programs but the worsening of his Parkinson-related disease has made it harder to obtain a job. He has started a new disability application, as a previous one had been denied.
Their living arrangement expired, so they have to move again, and their savings have dwindled. Unable to move them with me, I've been helping  them looking for a place that fits their limited income. In my quest to do so, I looked up the most affordable places for people in their situation, mobile home parks.
I found free or inexpensive mobile homes for sale, not in Orange County, but they needed to be moved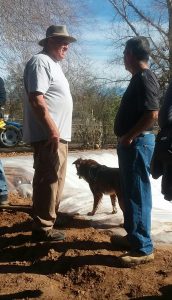 from distant locations, which is a costly expense. Browsing Craiglist I found an ad for a fairly decent looking trailer, at a reasonable low price, at a park with a rent space less than $400. I contacted the owner and he sent me pictures of the inside of the trailer.
We visited the park, which is in Yucaipa. The trailer was indeed nice but the park was a reflection of the bad rap that beautiful San Bernardino has these days.  From there we traveled to Salton Sea, where my friend Dora has a lot, thinking that we could take the trailer over there but it is too far, especially taking into his medical needs.
Resigned that I may have to refer them to the Bridges at Kraemer, I sent a thank you message to the owner of the trailer. He had been kind enough to talk to me when I first contacted him, and listened to what I was trying to do. To my surprise, I got a call back from him and he asked me more details about my friends.
I told him that they are a husband and a wife, from El Salvador, both of them LPR (Legal Permanent Residents), their educational background and current situation. He told me that he may be able to help them, as he owns property near where my friends live, an area where they would like to stay, and that he speaks fluent Spanish.
We visited him; he owns a farm where peacocks roam next to chickens, turtles live with koi fish, horses running nearby. My friends may have an ideal place to stay for a while. He texted me later saying " I will be carefully watching over your friends for you"
Before leaving his place I asked him about his last name, and he told me that GQ had published an article about him. Trump should have read it before rambling on about the wall, as shown in the video clip below.
I INVITE YOU TO READ THIS GREAT STORY OF THE GENEROUS MAN, ELDEN KIDD, WHO GREW UP IN VERN'S FORMER CITY, HUNTINGTON BEACH.  
Fog was his ally, but the rain was his best friend. It was 10 P.M. and drizzling, so Elden Kidd knew there would be nobody on the Tijuana beach to watch them leave: no bad guys, no policía. The rain shrouded them as they pulled on their wet suits, discarding their clothes on the sand and heading into the surf; it muffleed the tiny noises they made—the frightened gasps of the two Chinese teenage girls clinging to the boogie boards as the first waves reared up and smashed over them, the sound of Elden's fins slicing the water as he headed out beyond the surf break. The colored lights from Tijuana's dance clubs began to shimmer, then blur. The frenetic thumping of the bass line carried across the dark water like someone breathlessly chasing them. Soon that, too, would fade…
[Ed. Note 2: More people tend to read our Weekend Open Threads than the other average items, so I am pleased to change this fine post to have that status. — GAD]