.
.
.
Our friend Jason Young, who gave so much grief to Anaheim's kleptocracy from around 2012-14, is suddenly back and more productive than ever – Kleptoscribe Matt Cunningham even noticed and dusted off his 2012 character assassination of Jason.  Congratulations Jason – that means you hurt them!  And look at how Jason does it – just watch this masterpiece.  Six years of Orange Juice posts condensed (slightly simplified as one might expect in a short animation) into 90 easy-to-swallow seconds…
Bound to truth, and using our own names, that is as vicious as us rebels can get.  But the other side, with their unlimited laundered funds and absolute lack of conscience, is infinitely less constrained than us.  We've been keeping track of many of the Disney/SOAR/Chamber/kleptocracy lies, but yesterday they absolutely outdid themselves with a lying mailer we COULD NEVER HAVE EXPECTED – tarring Councilman Moreno, longtime advocate for immigrants, as some anti-immigrant Trumpie, in Spanish.  As they say in that beautiful language, Mira no mas…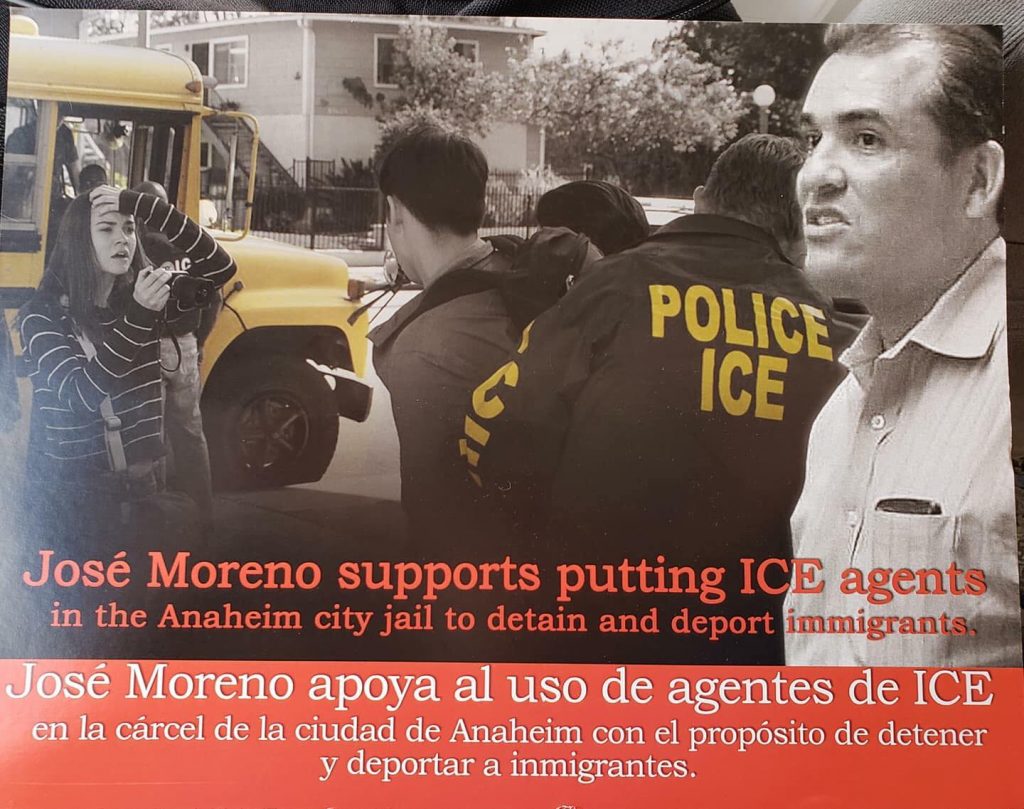 No time to figure out who Covina's "Protect Local Jobs" PAC is, and who gives to them – this crazy mailer is to the benefit of Mitch Caldwell, so I hold it against him unless he denounces it.  Their aim is to keep us dizzy with the nonstop unpredictable lies.  But this one may very well BACKFIRE – it totally justifies Dr. Moreno calling a PRESS CONFERENCE, which he is TODAY at 3 – in front of City Hall – bilingually, for Univision, Telemundo, and all the other Spanish-language media.  Without this there wouldn't be such a justification – now that's making lemonade!  I hope he calls out some of the Kleptos' other lies.  Here's a preview in Spanish:
Un mensaje para nuestra comunidad debido a las mentiras que estan circulando sobre mi. Yo siempre eh apoyado y seguire apoyando a nuestra comunidad inmigrante. No dejaremos que la oposicion le mienta y espante a nuestra comunidad por sus intereses politicos. ¡Adelante juntos!

Posted by Dr. Jose F Moreno for Anaheim City Council District 3 on Tuesday, October 30, 2018
Oh, now you want to hear lies or other interesting sleazy news from the other Anaheim races? 
In District 2, I've already been telling you how kleptocrat Jordan Brandman, who seems to prefer to spread his lies by the cheap, old-school, labor-intensive method of whispering them to everybody individually, has been claiming falsely that his rival James Vanderbilt is a spoiled "trust fund baby," that a respected Republican lady has been telling everyone not to vote for him because he's a "gay Jew", and that Vanderbilt refuses to debate him – which Vanderbilt and Duane Roberts most emphatically WANT to do.
I have some strange news regarding District 6 (the Hills) – it seems the Kleptocracy can't choose between Republican Trevor O'Neil and Democrat Grant Henninger (whom I always had a bad feeling about.)  Disney/SOAR has been pouring their hundreds of thousands into Trevor, but the Republican Lincoln Club confused everybody the other day with a large donation to Democrat Grant (along with Mayor Harry.)  I guess this confirms the only acceptable candidate being Tom Tait's friend Patty Gaby.  [See discussion in comments – it looks like they are actually trying to get Dems to vote for Grant instead of Patty, to help Trevor because they don't think Grant could win.]
And speaking of Harry Sidhu, at last night's debate our friend Cynthia Ward made a fool of him for not knowing anything about Anaheim's public utilities or how long we've had them (he gave credit to the Almighty Disney for our low rates.)  Said Cynthia, "You'd think somebody running for mayor would KNOW that."  Again, mira no mas…
Carry on…
UPDATE – Today's press conference …
and we're zeroing in on the people responsible for the "Anti-Immigrant Jose" mailer
Prepare for a big surprise!!!