.
.
.
"Take heed that ye do not your alms before men, to be seen of them: otherwise ye have no reward of your Father which is in heaven. Therefore when thou doest thine alms, do not sound a trumpet before thee, as the hypocrites do in the synagogues and in the streets, that they may have glory of men. Verily I say unto you, They have their reward. But when thou doest alms, let not thy left hand know what thy right hand doeth: That thine alms may be in secret: and thy Father which seeth in secret himself shall reward thee openly."
Not all Christians (or purported Christians) seem to be familiar with that passage (Matthew 6: 2-4.)  But Muslims DO seem to be!  I didn't realize how much our local Islamic community had been helping our local homeless community, so once I found out I thought I should share it with the rest of you – just last Christmas Eve the Islamic Society of Orange County donated 50 poly tarps for the riverbed homeless!  (People are starting to call this section of the Santa Ana River "Skid River" – do you like that?  I sort of do… or does it sound insulting?  Discuss.)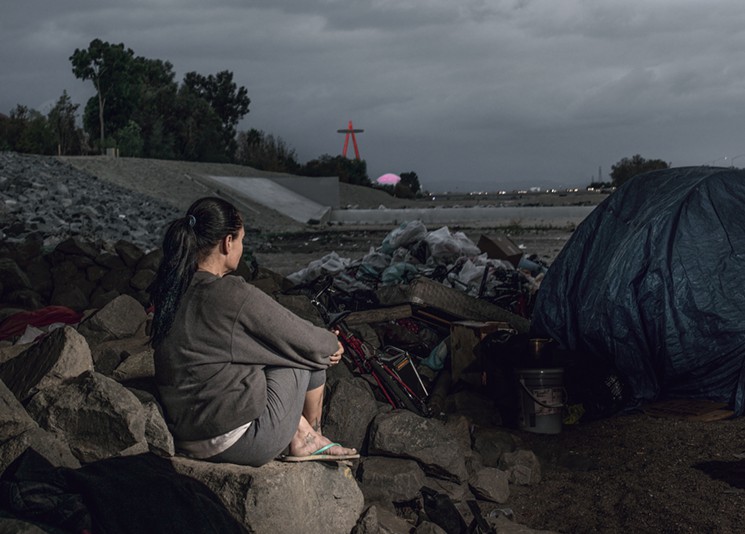 But most timely, I have to invite you to something that's happening right away, New Year's Day (Sunday Jan 1, 9AM to 5PM) – The Islamic Society is putting on a fundraiser / basketball tournament for the Skid River Homeless.  Islamic Basketball?  Apparently that is a thing that's been going on a while.  I'll find out more about this custom, I wonder if it started with Kareem Abdul-Jabbar.  Anyways here's the details, see if you can make it down there for part of the day, I know we will:
Please join the Islamic Society of Orange County and Hope 4 Restoration in a day of fabulous fun and fundraising in support of our homeless brothers and sisters living in the encampments along the Santa Ana River Trail. 
A fundraising event to raise awareness about the growing homeless population in Orange County, especially at the Santa Ana River Bed (Skid River).
Our goal is to raise money and bring this issue of homelessness onto the discussion table. Orange County is one of the wealthiest counties in the United States. Due to the increasing living costs, more and more people are forced out of their homes and onto the streets.
ISOC, along with Hope4Restoration, will be sponsoring a fundraising event for the homeless population at the Santa Ana River Bed. All donations will go directly to buying much needed supplies for the homeless population right here in Orange County.
DETAILS FOR THE TOURNAMENT:
Brothers Only (Boys)
5×5 – full court
$5 Minimum Donation
$10 Suggested Donation
$20 Donation (Comes with a free Basketball)
Pre Register HERE:
https://goo.gl/forms/uOCqs2nPTXDHE8Mu2
PingPong:
Girls Only
Open Play
$5 donation
Lunch:
Freshly cooked BBQ Chicken, salad, naan, and mint yogurt: $6
Hygiene Kit Assembly
Open to all
2pm
On the blacktop
DATE: New Years Day (January 1st, 2017)
TIME: 10:00 AM
Location: Islamic Society of Orange County
** If you don't have a team, Private Message me and we will add you to a team. Or show up at 9:30am and we will add you to a team.
VOLUNTEERING:
If you want to volunteer (food, donations, picking up supplies, refereeing – please private message me.
To learn more about Hope4Restoration visit their website at: http://www.hope4restoration.org/

Speaking of the OC homeless, a lot of us are planning to speak out at the next Anaheim Council meeting (Tuesday Jan 10 at 5) with several concrete demands;  in order to help get ourselves on the same page, we're meeting the day before at the Anaheim Unitarian Church – Monday Jan 9, 4 to 6 pm.  At this point, our demands will include:
Rescind the camping ordinance;  or AT LEAST stop enforcing it during the winter months, so these people can have their tents, tarps and sleeping bags.

Create one or preferably more "safe spaces" for them to camp (at least for the winter) – possibilities include the "Karcher Property" in District 3, and the southeast corner of Beach and Lincoln in District 1.

Order the police to stop seizing the property of homeless people, unless it is left unsupervised for a certain number of hours – that is supposed to be the rule, but our "homeless outreach team" has been seizing property right out of their hands!

Discuss creating temporary compounds of small modular homes, possibly in the spaces described above.

And contract with a mobile restroom/shower service as many other humane cities have.
But that list will probably change a little when we all meet on the 9th.  Meanwhile, still on the subject of homelessness, unofficial OC homeless czar Tim Houchen highly recommends this timely 71-page report… 
Okay I gotta run now, my Mexican neighbors are having a huge New Years Eve party out there, and I don't think it will go as well without The White Man of Anna Drive in attendance!  See you tomorrow at the Islamic Center…
This is your Open Thread, discuss Muslims, the homeless, Mexicans, whatever, but show a little decency and circumspection for Christ's sake!  Or not… And in the immortal tweeted words of our President-Elect, "Happy New Year to all, including all my enemies and those who have fought me and lost so badly they just don't know what to do!  LOVE!!!"