.
.
.
As the most-quoted source on the "Ling Ling Lies" website – and no, I don't know who created it or owns it and I have no dealings with it other than a source of quotes, information, and now links – I'm proud of the work that so many of us did to firmly nail the Jell-o of Ling Ling Chang's lies about her background to the solid wall of Verifiable Truth.  But I've always been a little sad that it wasn't more widely known than it is.
I'm normally not a fan of big glossy mailers, but I'll make an exception when they're well-documented and grounded firmly in the truth – and the truth about Ling-Ling's untruths is not hard to find.  (Nailing down some of the nuances – such as that she couldn't be in the Harvard program she claimed to be in because she didn't even complete the prerequisites (!) – took some time, though.)  The California Democratic Party has come through strong for Josh Newman with a particularly blistering mailer to No-Party-Preference voters.  (No, I'm not one — but I do have my ways!)
Here's the PDF of the information-filled second page of the mailer:
Each claim is footnoted.  The first cites the Pasadena Star-News, "Chang, Chen, Tye and Fritchle Battle for Two Primary Spots in 55th Assembly District," May 28, 2014.  The final three cite an OC Register article from March 31, 2014, entitled "Biographies are Studied," while the second also cites a LibOC article from last October largely cribbed from my Sept. 30, 2014 piece, which asks the good (although overly blunt) question: "Will Ling Ling Chang Graduate from Harvard Extension School This Year?"  (My guess: no, she didn't.  And won't.  And isn't actually even enrolled.)
That's nice and all, but there's SO MUCH MORE that they left out.  You really need to go to Ling Ling Lies to get a proper serving of her story.
"LLL" used the picture I found on LinkedIn that proves that Ling Ling herself, rather than the supposed confused City employees acting on her behalf whom she tried to throw under the bus, claimed that she had been educated at Harvard.  (It's the last picture, down below.)  But even they didn't get into the weeds like I did in the OJB story linked to above.  Let's reprint part of it that is based on attacks by Philip Chen – who is now running against Gregg Fritchle for Chang's old seat in the overlapping district! – that made it into Martin Wisckol's story (and the boldface emphasis for everything except her name is mine):
Biographies for Assembly candidate and Diamond Bar Councilwoman Ling-Ling Chang have sometimes listed her as having been born in Diamond Bar, having a degree in biology from UC Riverside and now attending Harvard.
In fact, she was born in Taiwan, has no degrees and has been taking online classes from Harvard Extension School since 2008. The Republican is running for Assembly District 55, half of which is in Orange County.
She says the mistakes regarding her birthplace and the college degree were made by others, that she has never represented herself as being U.S. born or having a degree. And at least one of those sources has acknowledged making the error.
For at least two years, from December 2010 to December 2012, her official biography on the Diamond Bar City Council website said she was "born and raised in Diamond Bar" and "went on to earn a bachelor's degree in Biology."
She blamed Diamond Bar's public information office.
"They misconstrued it when I said I was raised in Diamond Bar," said Chang, who came to the United States at age 3. "And when I was asked about my education, I said I studied biology at UC Riverside."
And the two-year lapse before the biography was corrected?
"It may seem strange, but I hate reading about myself online, so I didn't pay any attention until people started mentioning it and I changed it."
The public information office didn't return my calls, but I had better luck verifying the source of another error.
When Chang ran for re-election to the City Council last year, candidate information published by the Inland Valley Daily Bulletin listed her education as "Bachelor's degree in biology, UC Riverside; Harvard."
Chang said that she had again been misinterpreted but didn't ask for a correction. I called the Daily Bulletin, which verified that in a questionnaire under "Education," Chang wrote, "Biology, UCR; Harvard." The paper said a correction would be written.
At least two other websites picked up the erroneous mention of the college degree from either the city or Daily Bulletin biographies.
Chang offers no apologies for listing herself as attending Harvard, information that also appears on her Facebook and LinkedIn pages. While anybody can take classes from Harvard Extension School without going through an admittance process, Chang offered documentation showing that she is in the extension school's more rigorous degree program which does have an admissions process.
Now I'm not saying that Lying-Lying (oops, sorry, it's Ling-Ling!) is a compulsive liar – but one thing that compulsive liars do tend to do is to "up the ante" – embellishing, when challenged to the point where they can more easily be caught.  And, boy howdy, did she go too far with that last "saving" claim!
Back to my earlier story, skipping the part where I fruitlessly ask her to make public her alleged transcripts:
I wrote all of what appears above before I really started digging into Chang's record.  But I was still bothered by the supposed study at Harvard's Extension program.  Extension programs are sort of the "Redevelopment Agencies" of upscale academia — a gigantic pot of money that exists because they are so easy to abuse.  They let prestigious universities make money off of well-funded people who would not gain admittance into a regular program, but still wanted a bit of cachet — because they're running for office or something.  As someone who earned all of my degrees based on normal admission factors like grades, scores, and activities, I always want to take an extra look at what was really behind such a degree.  So, I investigated — and take a look at what I found online.
Happily, I was able to obtain an image of the claims that Ling-Ling Chang made about her education in order to help her beat Phillip Chen in the primary:
In case you can't read it easily, it says this:
Studied biology, University of California, Riverside
Attending for a bachelor's degree in biology, Harvard University (expected 2015)
Uh-oh.  Here comes the part in red.
Note three important issues, one with four sub-parts:
"Studied biology" is not an actual educational credential.  We don't know from this if she passed even a single class at UCR.

She says that she was "Attending for a bachelor's degree in biology" at Harvard.

"Attending for," to the extent that it's grammatical, suggests that she was physically present there; there's no indication that this was true.  (If it were true, she'd likely have said so.)  Strictly speaking, as someone patching in from the Internet, it's not even clear that she herself was physically present at her computer — if she actually completed any of these classes at all.  Again, let's see that transcript!

Now her claim goes from "taking some extension classes" to  her being on the verge of earning a Harvard degree!  Presumably, as she says, that would be a Bachelor's of Science.

BUT THE PRESUMPTION IS WRONG!  Harvard's extension program DOESN'T OFFER A BACHELOR'S DEGREE.  If offers a Master's Degree in Liberal Arts in with a concentration in Biology.  Here are the degree requirements — does she even claim to have filled them?  Which semesters did she spend in residence at Harvard — as is required?  What's the topic of her Master's Thesis?  When did her five-year deadline begin (as she says that she started in 2008.)

And in point 2 on the page discussing Admissions requirements, it says this (the boldface is my emphasis):
2. Take your three admission courses.

Specific admission course selection guidelines, including the appropriate graduate proseminar, are outlined on each individual field page.

Enroll in these three courses for graduate credit at Harvard Extension School or Harvard Summer School, and earn at least B in each. The 12 credits are included in the 40 credits required for the degree.

If you haven't yet completed a bachelor's degree, you may still start taking your admission courses. But you cannot count more than three courses toward the degree before you earn a bachelor's.
Ling-Ling Chang has not completed her Bachelor's Degree.  She'd have listed it, if she had.  So, SHE CANNOT POSSIBLY BE EXPECTING TO GRADUATE FROM HARVARD IN 2015.
THAT'S A LIE

.

Unlike simply scrawling down "Biology, UCR; Harvard." as she claims to have done elsewhere, the information on this Voter Information website is SO DETAILED — as well so obviously beneficial to her (the payoff doesn't come until after the election) and so obviously wrong — that this could not have come from anyone outside of her campaign.  (They may have — I'd guess likely did — swipe it from another voter information website, but they would not have made up these sorts of details on their own.)  So this is the equivalent of a fingerprint left behind, evidence of a previous claim.   She has blamed others, including City staff, for each of  her representations — but who else would claim that she was graduating in 2015, and listing the wrong degree, without her knowledge?
She's simply a liar — a brazen liar who, when caught, lies about having lied by deferring responsibility onto poor city officials who can't take the risk of opposing her.  DO YOU WANT TO ELECT A SERIAL LIAR IN SD-29?  IF SO, THEN LING-LING IS YOUR GAL!
[Yes, it said "AD-55" in the original.  I've updated it.]
I have, as of just now, barely even started looking into her supposed company, "Strategy Insights Group" — which claims: "Our core service team consists of former consultants from McKinsey & Company" — oh, really? — but doesn't list the names of any employees AT ALL.  Their phone number — 213-255-5750 — leads to a Google Voice request for you to state your name; I was pretty sure that they wouldn't let me through if I said who I really was, but YOU, Dear Reader, are welcome to try!
And here are their claimed — or sort of claimed, as it doesn't say that this business actually served them — clients, listed under the link "Clients":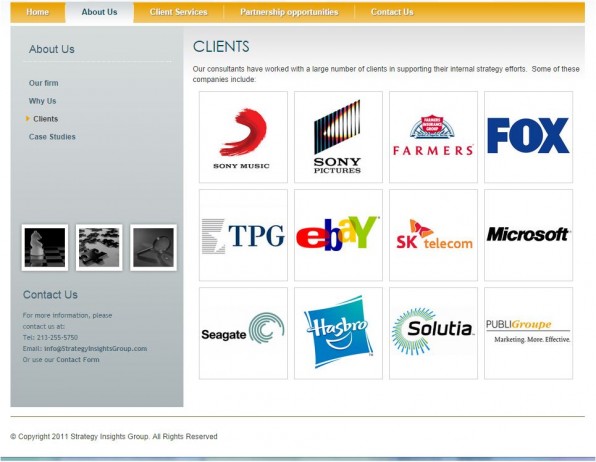 Yes, because these are the sorts of companies that want to take advice from someone who (maybe, at most) took some biology classes at UC Riverside.
You might hesitate to believe that she actually claims to own this business, so — here's a screenshot from her LinkedIn page, where she claims that she's its "Principal," i.e., owner"
And oh look — IT ALSO LISTS HER EDUCATIONAL BACKGROUND AS "HARVARD"!  SOMEONE ELSE'S MISTAKE, NO DOUBT!  (Note for to-investigate list: Is LinkedIn In on the Conspiracy to Misrepresent Ling-Ling?)
All of this may have been innocuous in her race against Gregg Fritchle – who is not only a good guy, but one who absolutely rejects negative campaigning, even when its claims are clearly true.  But now she's running against Josh Newman, the sole member of his Yale graduating class to volunteer to serve in the military, where he was in harm's way; someone who has worked for real companies; and someone who owns an actual non-profit whose services I have used twice now to locate a veteran to hire to do some substantial work.
Here in Orange County's "Frozen North," political offices are currently sort of "dynastic."  Assemblywoman Young Kim, currently on a path to get her clock cleaned by Sharon Quirk-Silva in AD-65, is the protege of Ed Royce.  Philip Chen, the likely next AD-55 representative, is the protege of Supervisor Mike Antonovich.  Ling-Ling is the protege of Bob Huff, who steered her to switch to this race when it became clear that Sukhee Kang would probably crush his actually favored protege, Tim Shaw of La Habra, in the general –  if Shaw could even make it past the primary.  (Counter-programming Kang with Chang would probably have worked – but Democratic voters evaded that by instead choosing Newman, and independent-minded and dry-witted gentleman who put forth the best candidate's campaign signs of this year and maybe any recent previous one as well – to oppose her.  It's a bad match-up for her.)
Because her supposed work history (aside from her sworn claim in 2009 to be a "teacher," which she wasn't) is largely with "her company" "Strategy Insights Group" – which is speculated to have been set up with the help of Huff to give her some cred and gravitas without requiring her to actually be able to generate strategic insights, or even to have a "group" at all.  (Lying, Lying, Ling-Ling!)  But hey – Ling-Ling can shut up that speculation by just releasing the tax returns of Strategy Insights Group for whatever years it's supposedly been in business.  With the client list she claims, she must have been making a pretty penny!  And it presumably paid for her lifestyle – unlike Josh Newman's non-profit, from which he says he has never taken so much as a dime.
Of course, it's possible that Bob Huff did arrange for some companies that wanted favors from him to steer some ghostly "business" her way while establishing the appearance of her credentials to run for office.  So maybe some reporter out there with a proper business background could interview both Chang and Newman on their business experience, with each coming prepared to talk about cases they've faced and addressed.  If it happens, though, I hope that that reporter will print the raw transcripts of the interviews, because I'd love to know what sorts of stories Ling-Ling might produce under tough questioning!
Update 10/15/2020