.
.
.
In September 2012 Law Enforcement Against Prohibition (LEAP), a group of law enforcement professionals opposed to the war on drugs, of which I am a member of the board of directors, joined the Mexican poet Javier Sicilia and the Caravan for Peace with Justice and Dignity on its 6,000 mile journey across the United States. This journey highlighted the impact about the collateral consequences of our drug policy across the border. Prohibition has resulted in over 100,000 drug-related deaths since 2006 in Mexico alone. As an immigrant from Mexico I am overwhelmed by the staggering loss of lives in a country and a people that I love.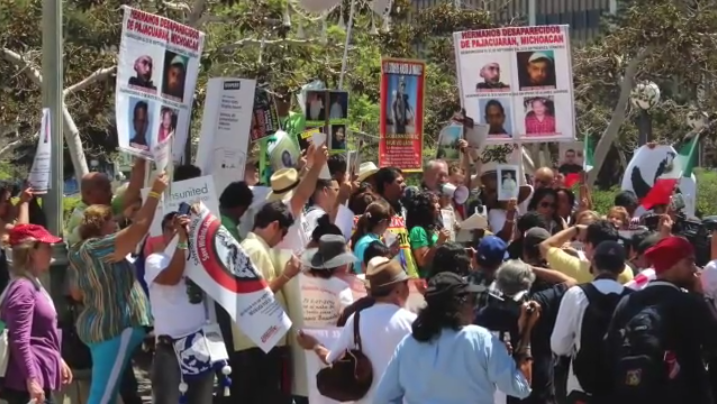 Drug policy reform in large measure has been fueled by the horrific consequences of our failed emphasis on drug enforcement throughout the years. This emphasis on the criminalization of drug users has fueled human rights violations and violence across the world. I have often shared my personal story of my brother's death. My grief turned into rage turned into activism. My body of work in drug policy reform has helped to ameliorate the pain I still feel vividly each day. But it's not just my own pain that I feel but also the untold number of lives that are lost every day due to drug prohibition.
My heart broke when I traveled on the first leg of the journey and met relatives of the many victims that have died as a direct result of drug prohibition, including Javier Sicilia, who lost his son, who shared their collective grief with us, further inspiring us not to give up until we end the failed drug war. This journey was captured and resulted in the upcoming release of our documentary With Justice and Dignity: A Caravan for Peace.
On my birthday, as a way to honor my brother and the victims of the drug war, my husband and I are hosting a fundraiser for LEAP where we are premiering the film. You can help end drug prohibition by supporting LEAP with a direct donation or by attending our premiere. Tickets can be purchased on Eventbrite. Vern Nelson will be playing piano before and after.  For any questions please contact Diane Goldstein directly at diane.goldstein@leap.cc.