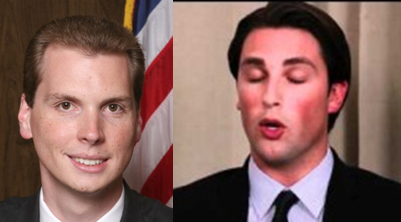 It is Halloween night, and Connor (dressed as a fireman) is asking his Mom if he can spend the night at his friend JB's house.
Mom: I don't know about that boy Jordan, he is always finding himself in trouble….

Connor: Wait! JB has never actually been busted. There was that thing about being paid a bunch of money to do a report, you know, that one JB plagiarized and turned in late, but he was able to get out of that.

Mom: Hmm, well Connor, that does not exactly inspire confidence. And what about is friends, the Calderon Clan. The ladies at the PTA meeting have no doubts that THEY are serious troublemakers.

Connor: Not fair! You're being prejudiced! You are saying JB is bad just because his friends.

Mom: (smiling at her good, but naive son) Dear, I am not saying JB is a bad person, I just don't want you spending the night at his house.
Likewise, the voters of Anaheim need not condemn Jordan Brandman as a crook by association; but nevertheless, they may conclude that such a man needs to be off the City Council.
Jordan Brandman has found himself working with quite the bad crowd. Now, we are not talking about his friends in Anaheim.  No, this Curt Pringle protégé is growing up and wants to make powerful friends of his own.  Hence, his employment under Ian Calderon, the latest newsmaker of the corrupt House of Calderon. Brandman is the "District Director" for Assemblyman Calderon in the LA county-based 57th district.
At this point, we can stop and scratch our heads. Voters have the right to ask: Who does Brandman serve?  The people of Anaheim? The people of the Los Angeles within the 57th district? Or does Brandman serve only the ambitions of Brandman?
Another question: Why the Calderons?  Brandman's boss is part of a political dynasty that has controlled powerful state legislative committees for decades. During that time, the Calderons have been continuously criticized in the media for using campaign cash for personal benefit. The murky world of politics and money are the lifeblood of the Calderons. Indeed, this is an interesting choice of associates for a sitting member on the Anaheim City Council.
The question is more pressing in light of some recent news:
State Sen. Ron Calderon has been indicted in a sweeping corruption case, accused of taking about $100,000 in bribes.
Former Assemblyman Thomas Calderon faces charges of conspiracy to commit money laundering and money laundering.
And according to the very latest, during his 2010 reelection campaign, Charles Calderon paid $40,000 to Ian Calderon (Jordan Brandman's boss, pictured at right) for Web-consulting services, but an investigation by this newspaper turned up no evidence of a campaign website or social media presence.
Brandman's boss then billed another $9,500 after the campaign was over, according to state records. An expert on state law said the practice was ethically questionable. Another expert reviewed Calderon's career and concluded: "It just shows that Ian was part of this big political machine."
What exactly does Jordan Brandman do for the Calderons?  Does it even matter as this point, can a City Council member with official friends like these expect to be re-elected?  In any event, don't feel bad for Jordan Brandman.  He made his bed thinking of all the ways he was going to cash-out on the Calderons, but now he must sleep in it… wherever they all end up.