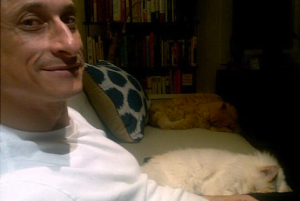 This could be one of the craziest times in American History.  We can't recall or even imagine the number of "Egos Gone Wild" as at this time.  How about Tiger Woods and Lindsay Vonn?  How about Dwight Howard?  How about LeBron James?  How about the growing list of New England Patriot  and other NFL football players?  How about the huge list of Major League Baseball Players taking Enhancement Drugs?  How about American Track Stars ….taking Enhancement Drugs.  How about the list of scandal riddled defrocked Catholic Cardinals, Priests and the amazing list of weirded out politicians?  We won't even go into the amazing list of Institutional Bankers in denial…..as they face indictment on fraud charges.  All of these groups seem to be so proud of their accomplishments and with absolutely no guilt attached.
Elliot Spitzer is running for Controller of New York City.  Elliot is a brilliant attorney and was a popular politiian in New York until he was caught paying $250,000 dollars to just one prostitute.  His little black book had half a dozen names in it.  He had to resign and do penitence on MSNBC and a appearance on Bill Maher.. for a few years.  Today, Elliot has chosen to throw his hat back into the ring…..for that perverbial political second chance.  There is every possibility that his race will be a walk-over.  Elected in a heart beat.
Then comes Anthony Weiner and his heavy hitting wife Huma Abedin who worked for Hillary Clinton.  Weiner likes showing his private parts and sexting on the internet.  He loves being able to show it off.  Weiner had the best polling numbers for NYC Mayor, to replace Michael Bloomberg, yesterday, but today he came out again.    The problem seems to be……that when you enjoy nudism on a world stage……guess you get pretty hooked on it.  Psychiatrists say it is a Dopamine Rush, that takes more and more exposure to keep getting the same thrill.  Like heroin or oxicodine perhaps?  Once a addict, it may take years of therapy to stop that kind of behavior.  Perhaps…never!  The latest revelation came out with a photo of the Weiner Unit…saying that is was recent and that Weiner had not solved "his problem".  Meanwhile, Huma had to step up and speak to the press…….to validate that she was still on Tony's side and Standing By Her Man!
So, will the people of New York City vote in a Weenie Wagger as their next Mayor?  This is going to be a fun to watch….either way.  The classic separation of job from personal behavior has reach unpresidented proportions.  The current wave of:  "Hey, it doesn't matter what a person does in their private life."  is funnier that a crutch.  How about Dog Lovers exposing themselves on the web on their own web or face book page?  The questions of propriety, honesty, truthfulness and reality should probably be counted as essential qualifications for public office, if we want our children to continue that trend.  If not…….then bring on the Pony Lovers at the Blue Fox in Tiajuana.  These are "Egos Gone Wild" and there is little doubt that "if elected" the outrageous behavior will undoubtedly escalate to amazing levels of unreal basic instincts.  Can't wait to see the endorsement list for the Big Weiner!  Crude NYC Newspaper endorsements aside.
Too bad Elliot Spitzer is not running for Mayor instead of Controller.