.
This morning's Orange County Register features a fine investigative piece by new reporter Keegan Kyle  reporting that the Anaheim Police Department may not only have one of the more dismal records in the State for solving crime, but they appear to have created an accountability system that covers over those numbers when reporting to the City Council and the public.  So much for that transparency they claim is good enough that it makes civilian oversight unnecessary.  The investigative piece spreads over the entire first half of the Register's Local section, and frankly justifies every nickel I pay for my subscription.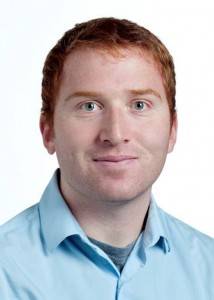 Tenfold.
Keegan Kyle (pictured at right) was hired by the paper this past November, as part of the journalism build-up leading to a "paywall" system to cover the paychecks of those journalists the Register lured into the Grand Avenue headquarters.  Freedom Communications made a very smart investment in Mr. Kyle.
Now, because I know many of our readers do not subscribe to the Register, I have copied and pasted more elements of their article into this review than I would usually do, so that we may discuss at least the high points of the article.  But I would encourage our readers to go pony up for at least the daily feed so you can read the whole thing for yourself, this guy's paycheck was worth a few bucks to you, trust me on that.  Just go do it, you cheap bastards.
*********
Now on to the article.
The Anaheim Police Department, once regarded as a crime-solving champion among California law-enforcement agencies, has registered a dramatic fall over the past decade.  From 1998 to 2002, the department reported solving about 73 percent of violent crimes — an extraordinary record. Since 2002 police have reported solving only about 43 percent of violent crimes.

No Orange County law-enforcement agencies and no major police departments in the state have logged steeper declines than Anaheim's.  Most have seen gains in crime solving, little change or slight drops.

Anaheim police are unsure exactly what factors may be responsible for the decline.  They suggested that recent staffing cuts, more gang violence and even incorrect statistics might explain the changes.  But two things are clear: Police have never reported the decade-long decline to residents or the City Council.  And the downward trend most affects the city's disadvantaged communities. Violent crime is far more common in Anaheim neighborhoods west of the 57.  In this lower-income, more ethnically diverse area, police reported the vast majority of crime last year.
The article itself is long, as I've mentioned, eating up the entire front half of the Local section.  My commentary is going to make it longer – and as you MIGHT know, MY commentary can make the discussion MUCH longer.  So we will break the article down piece by piece during the next few days for further debate.
What is clear is that even when APD numbers appear to reflect better rates of crime-solving, it's because of a shift in reporting standards, not an increase in actual criminals pulled off the streets.
Police concluded the number of solved cases had been an error, [Captain] Conklin said.  The department's sex crimes unit had a new sergeant that year, and he didn't know all of the FBI's statistical definitions.

An arrest is the standard event that police use to count the number of solved crimes.  But the FBI also allows police to count cases in several unusual situations not involving an arrest.  The suspect may have died or couldn't be extradited from another country.  Or police might have a suspect but the victim won't cooperate with prosecutors.

According to FBI rules, police are supposed to at least identify the offender, know the person's location and have enough information to support charges before counting the case as solved.

Conklin said the sex crimes sergeant didn't know about the unusual situations and had only been counting the number of rape cases involving an arrest.

Last year, after the sergeant became aware of the rules, the rate of solving rape cases jumped to 74 percent from 19 percent.  Combined, the number of cases solved by police in 2011 and 2012 was more typical.

Still, at least 480 rape cases remain unsolved since 2002.
Now I don't know about you, but to me this says that while APD still has only 19% of rapists in jail, they are now taking credit for 74% "solved" because they "identify the offender, know the person's location and have enough information to support charges."   Knowing who the rapist is does not comfort this Anaheim resident as much as – oh, say, knowing he is in jail!
What is also clear is that the system was set up as yet another parting gift by Curt Pringle on his way out of the Mayor's office. The Police department's budget is tied in part to "solve rates."  The Register reports that the formula changed in 2011, following adoption of the new formula in the budget approved in mid-2010 by then Mayor Curt Pringle – a budget and new formula he left behind for Mayor Tom Tait to implement.
However, that increase only materialized on paper after police began excluding property crimes from the numbers, few of which they solve. Had the format been consistent, the budget would have shown the decline in crime solving.

The statistics switch was part of a citywide makeover that began in 2010. The city slashed most performance metrics from its budget documents and redefined others. The goal, Finance Director Debbie Moreno said, was to create a simpler, user-friendly report.

The Police Department's new metrics were chosen by Welter and former City Manager Tom Wood, and then approved by the City Council with the rest of the budget. Welter said the city switched to only violent crimes because the category has a more drastic effect on the community and the numbers are considered more reliable.
Could this have something to do with Chief Welter's sudden departure?  Some have tried to portray his impending retirement as a reaction to the debate on oversight boards, but the reality is Chief Welter had wanted to announce his retirement last summer.  Then the "civic unrest" of July and August took place and Welter stayed longer. Some insist the Chief is leaving early, but plenty of us know he stayed longer than he expected to.  But now that the accountability is hitting the fan, it's hard to believe he didn't hit his breaking point with a call for comment from an investigative reporter three days prior to his surprise announcement that he would no longer delay his retirement.
After leading the Police Department for nine years, Welter announced last week that he would retire in May.  He said that the timing was unrelated to last year's unrest, and that he wants to spend more time with family while he remains in good health.  He is 64.

In an interview three days before that announcement, Welter said crime solving has been "going in the wrong direction" but downplayed the decade-long fall.   He said police had a "really bad computer system" before 2006 so comparing historical numbers was unreliable.

"Quite frankly, it's worthless for me to even discuss it," Welter said.   "I don't find that it's relevant.   I don't find that the information means anything."
I have been a fan of Chief Welter, he seemed like a great guy who cared about his department and cared about Anaheim, and history may well prove me wrong – it often does.  But I'm furious at his dismissal of this issue as worthless and irrelevant.  Whether or not cops solve crimes and get the bad guys off the street is highly relevant, and when it appears that numbers have been fudged to continue paying for a taxpayer-funded department failing to reach their goals, we need to have this discussion.
So stay tuned this week as we cover the many facets of the information blocks turned up by the Orange County Register's Keegan Kyle, it's sure to be an interesting chat!  And go pay for the article online, so you can keep up with us.