.
.
.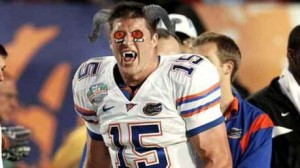 First of all, congratulations to Nick Saban and the Alabama ….Crimson Tide…Roll Tide and they did.  It was as greatly satisfying as any football game win could possibly be.  It helps cover up the results Sunday of the Pittsburgh Steelers and the Denver Bronocs.  Comparing the two games should be required for anyone who wants to know how paid off politics work.  This is a tale of an "Unprobable Hero" in the midst of a very unforgiving and brutal contact sport.  The idea is:  Let's take a guy that works at the local gas station and make him an NFL quarterback.  Let's take a guy with "faith", "willingness to sacrifice" and an "unimpeachable luck" and create the "Great American Dream":  Tim T-Bone in the Super Bowl!
We saw that movie once……it was with James Caan and it was called: "Rollerball".  The improbable tale on one man against the giant machine of pro sports, government and the whole Global universe!  This story re-surfaces from time to time….sometimes in boxing, sometimes in college bastketball, sometimes in tennis, sometimes in NASCAR, sometimes in local races for school board.
OK, OK…..we are not being negative here.  We are not saying that every high school football game is fixed.  No, we are not talking about Mini-Soccer players being bet on by Professional Gamblers……but…..it could happen!  How about the College World Series or the BCS Bowls?  We know that literally Billions and Billions of dollars are bet, each and every week….on college basketball games alone.  These are the same folks that created Hedge Funds, Derivatives and other so-called inventive investment vehicles.  The concept is simple……take the money out of your pocket and put it into there pockets.
We believe that the NFL needs to put in place a healthcare system which lasts for 20 years…..not five after leaving the league.  We believe that when kids like C.J. Mosley of Alabama last night, after he intercepted a pass was slammed unceremoniously to the ground with a probable career ending injury…..someone needs to be responsible.  Either the University of Alabama, the employer or the advisary and their University should be held responsible.  The LSU quarterback was frustrated but how he intentionally slammed the defended to the ground….to injure or maime is unrepentive behavior which calls for banning that player and that University from any further BCS activities.
Let's get back to how phony the Tim Tebow experience has become.  In the Pittsburgh game, no one laid a hand on him!  Is the Denver Broncos offensive line really that good?  Was Pittsburgh's Defense….really that bad?  They never blitzed T-bone once!  They never covered the recievers ONCE!  He ran at will and passed at will.  Nice, for the gamblers that made a killing on that game.  So, what is next?  The New England Patriots……are being set up to lose a close game to create additional hype for the SuperBowl.  The realities are rather stark.   In the real world, New Orleans should play Green Bay for the NFC Championship and New England should play Baltimore.  The Super Bowl should be Green Bay against New England.  Hey, we love Jim Harbaugh and the pretender San Francisco 49'ers….but they don't beat New Orleans in a real world.  Denver never beat New England, Houston shouldn't beat Baltimore and the New York Giants never beat Green Bay!
So folks, join the hype!  Get those T-Bone t-shirts now…..before the rush at Super Bowl time when the Denver Broncos plays the NY Giants in the Super Bowl!
Better get your Mitt Romney Kitchen Mitts before he runs out.  This is America in action…….T-Bone and Mitt…..together on one stage accepting the nomination of their Party and their fans!  It's all theater folks and you might as well join up now and avoid the rush later!
"A man of destiny……..one man against the world…….with a bunch of totally committed team members ready to give their all for the T-Bone!"
 
Once again……our congratulations to the Alabama Crimson Tide!  It was beautiful to watch!  Hopefully, Maze and Mosely will be back healthy next year!